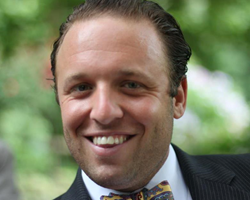 It's a huge step in becomingthe leading social gifting platform in the country.
Richmond, VA (PRWEB) August 05, 2014
GiftCaddies, a new company that allows quick and convenient gift giving through mobile devices, is one step closer to launch thanks to the partnership with Richmond, VA-based, award-winning marketing agency West Cary Group.
"We are very excited to have West Cary Group as our first investor and partner," Charlie Vecchio, GiftCaddies Founder and CEO said. "It's a huge step in becoming
the leading social gifting platform in the country."
"GiftCaddies feels like an extension of our brand," added Moses Foster, West Cary Group President and CEO. "They are technologically savvy, analytically astute and keenly focused on the customer."
Since GiftCaddies began in early 2014, Vecchio has been developing the start up brand independently. This strategic partnership will not only help propel GiftCaddies to launch into multiple markets, but get the mobile app ready for use.
The mobile app will allow creative and convenient gift giving through smartphones and other mobile devices. For example, the free app will allow participants to send a drink to a friend at a bar who's 3,000 miles away or send a pizza to a college student studying for final exams. The company thrives in the value of sending and receiving tangible, thoughtful gifts.
"The market is ripe for GiftCaddies," said Foster. "Gifting has really become so impersonal over the years and I love that GiftCaddies is bringing back the joy and thrill of delivering a truly personalized experience."
The GiftCaddies Web app and technological platform have started development since partnering with West Cary Group. Not only will the full service agency be handling the development but also creating a marketing strategy, including brand identity standards and all forms of marketing communications.
A main priority for Vecchio when pursing investors and partners for GiftCaddies was location. He strived to keep the company in Richmond, his hometown, and pursued only investors who would honor that.
"We had a lot of investors who wanted to move the company to a bigger market but West Cary Group was local and they have a great brand awareness that was perfect for GiftCaddies," Vecchio said. "They have a team who will be able to not only develop the app but work closely with GiftCaddies on scaling to new markets."
The launch date for GiftCaddies has been set for early fall 2014 with Richmond, Virginia Beach and Washington, D.C. as the initial markets for roll out.
"We love the concept, we love the brand, and we love the technology," said Foster. "We're excited to be a part of their evolution!"
For more information about GiftCaddies, visit http://www.giftcaddies.com. Updates will be available as the app becomes available in multiple markets this coming fall.