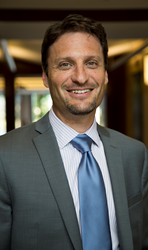 Broomfield, CO (PRWEB) August 05, 2014
MWH Global, the premier solutions provider focused on water and natural resources, today announced that international development and environmental expert Loren Labovitch has rejoined the firm as the director of emerging market growth and partnerships. Labovitch brings more than 20 years of project and policy experience in developing countries throughout Latin America, Africa, Eastern Europe, Southeast Asia and the Middle East.
"MWH remains focused on offering innovative solutions to public and private clients in emerging markets. Supporting investments in water and sanitation, energy and food security that drive sustainable economic development and improve the stewardship of natural resources in developing countries is important to our company's purpose of Building a Better World," said Dan McConville, president of business solutions for MWH. "Loren is an experienced project and policy expert and important asset to our goal of growing and enhancing our international development business. We are happy that Loren has rejoined MWH and look forward to partnering with our clients on these important projects."
Labovitch specializes in fostering strategic partnerships between government, private sector and civil society to address global environmental and development priorities. His expertise includes climate change mitigation and resilience, integrated water resource management, renewable energy and food security. Labovitch is an industry leader in conceptualizing, designing, budgeting and implementing environmentally and socially responsible investments in the water, energy, agriculture, transportation, mining and health sectors.
In his new role at MWH, Labovitch will be responsible for working with donors, multilateral development banks and private clients to help design and implement water and natural resource-focused development programs, community engagement initiatives and corporate sustainability strategies in developing countries. Labovitch will continue his focus on innovative public-private partnerships to help address global development challenges and promote sustainable, resilient, and inclusive economic growth in the world's emerging economies.
Prior to joining MWH, Labovitch worked for the Millennium Challenge Corporation (MCC), an independent U.S. foreign aid agency created by the U.S. Congress in 2004. He held the positions of director of finance, investment and trade, and director of environmental and social performance during his eight years at MCC. In these roles, he oversaw U.S. government grant-financed investment programs designed to reduce poverty and stimulate sustainable economic growth in developing countries. Labovitch has also worked for the White House Council on Environmental Quality as a climate adaptation manager. He previously spent 14 years with MWH in strategic planning and consultant positions.
Labovitch earned a master's degree with honors in international business from the University of Colorado in Denver, Colo., and a bachelor's degree in environmental studies from the University of California in Santa Barbara, Calif. He is based in the MWH office in Washington, D.C.
About MWH Global
MWH Global is the premier solutions provider focused on water and natural resources for built infrastructure and the environment. Offering a full range of innovative, award-winning services from initial planning through construction and asset management, we partner with our clients in multiple industries. Our nearly 8,000 employees in 35 countries spanning six continents are dedicated to fulfilling our purpose of Building a Better World, which reflects our commitment to sustainable development. MWH is a private, employee-owned firm with a rich legacy beginning in 1820. For more information, visit our website at http://www.mwhglobal.com or connect with us on Twitter and Facebook.