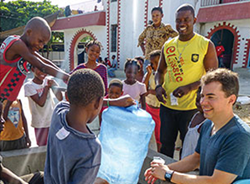 Richmond, Vermont (PRWEB) August 05, 2014
Eco-Friendly and socially conscious company, Clean Ethics, is expanding their world influence by helping developing countries keep their drinking water containers clean with their Bottle Bright tablets. They are providing developing countries with equal amounts of Bottle Bright, matching every purchase, and distributing them to people in desperate need of clean drinking containers.
Clean Ethics is committed to helping and providing education about hygiene risks that are raised when the jugs and bottles people use to carry their water are unclean.
Clean Ethics environmentally friendly product, Bottle Bright, is a tablet that cleans out unwanted gunk and dirt from even the tiniest cracks and stubborn crannies. Bottle Bright lets anyone turn his or her grimy water containers into safe and sparkling containers to transport and drink their water from. All they do is add the tablets and shake up their containers and dump the water back out, the result is like a brand new container.
Clean Ethics is launching their Buy Clean, Give Clean program to provide developing countries with Bottle Bright to help keep their water containers clean. While organizations work to build fresh water wells, the maximum benefits of this clean water may not be achieved when those people in the villages continue to use dirty water containers that they are unable to clean out.
Bottle Bright is eco-friendly, safe to handle and easy to transport. Now Clean Ethics is matching every purchase of Bottle Bright made here, and providing the same amount to people in need.
From its conception in 2010, Clean Ethics has been focused on developing quality formulas and a devoted cliental base through their flagship product Bottle Bright. As avid mountain bikers, they first dreamed up the idea as they were tired of the foul tastes and grime that never quite disappeared from their hydration packs and bottles. With a background in renewable fuel production that provided them with chemistry and product development experience, they set out to change the world.