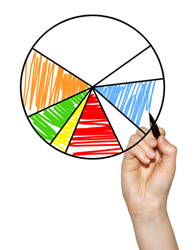 Rockville, MD (PRWEB) August 06, 2014
The latest statistics show that credit card use is on the rise. While tackling debt seems to have become an unwelcome tradition for many Americans, managing debt wisely can play an advantageous role in building a strong credit history. OpenSky advises consumers to understand the "ingredients" that go into the "debt pie," which in turn means understanding how different types of credit work.
It is important to know how revolving accounts, like credit and store charge cards, have the power to make or break credit worthiness, depending on how they are used. Understanding how they work, and how they affect other types of credit like installment loans, home mortgages, and auto loans, can ensure that, when the time comes for the big purchases in life, lenders will be motivated to entice you with better interest rates and lower monthly payments.
Having wrestled a big credit card balance down, many people reward themselves by cutting it up and throwing it away, but that is actually counterproductive, says OpenSky President Nick Bryan. "Having accounts that demonstrate your ability to make payments on time will help build your payment history — which is the biggest factor in the credit score equation."
Of equal importance, he stresses, is whether the creditors are reporting each month to the credit reporting agencies, as OpenSky does. "Take a minute today and call your credit card issuers to find out whether they report to all three major credit bureaus — you would be surprised how many report to just one or two." For more information about OpenSky, visit OpenSkycc.com.
About OpenSky:
OpenSky is a business line of Capital Bank, N.A., a full service commercial bank in the Washington, D.C. metropolitan area. A top-ranked bank based on performance, it is the only bank in Maryland and Washington, D.C. to make the American Bankers Association Journal (ABA Journal) list of top 100 performing community banks in the class of over $100 Million in Assets. With nearly $500 million in assets, Capital Bank offers a full range of banking services including cash management, commercial lending services, residential mortgage and consumer credit. For more information about the Bank, visit http://www.capitalbankmd.com. Member FDIC. An Equal Housing Lender.