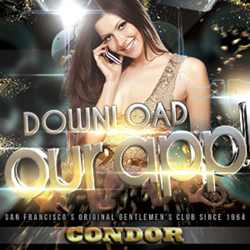 San Francisco, CA (PRWEB) August 04, 2014
Condor Club in San Francisco is rolling out a brand-new app to give smartphone users an even better customer experience. With the new app, customers can find out important and exclusive information about the club and receive special benefits.
The Condor app is available on Apple iTunes and Google Play, and offers a number of special features. Customers can get the beautiful Condor Cuties right on their phone! The showgirls' schedules are updated daily, and customers can view them on the app. In addition, customers can browse the menu of delicious food and drinks, keep track of upcoming events and more.
Users will receive special benefits when they check-in for discounts, including receiving exclusive VIP offers and loyalty rewards. The app also allows users to make reservations for upcoming events easily and quickly.
"At Condor Club, we strive to make every customer's experience a positive one," said Axel Sang, director of marketing for BSC Management. "With the new app, we're making that experience even better. Download it today to start your experience!"
To download the new app, visit iTunes App Store or the Google Play Store. The Condor Club encourages all their customers to download the app to enhance their experience with the club. Stop by Condor today to enjoy a night of quality entertainment or call 415-781-8222 for more information.
About Us:
Condor is San Francisco's original gentleman's club. In 1964, they became the first topless club in the United States. Since then, they have provided the Bay Area with quality adult entertainment and superior service. The club features a VIP lounge, champagne rooms, bottle service, topless dancing and concierge services, all in an effort to provide their customers with a special and exclusive experience. Everyone is sure to have a good time at Condor. With live music, a full bar and restaurant and topless adult entertainment, there's no better gentleman's club around. Condor Gentleman's Club is open 6 p.m. – 2 a.m. Monday through Wednesday and 12 p.m. – 2 a.m. Thursday to Sunday. For more information, visit their website or call 415-781-8222.