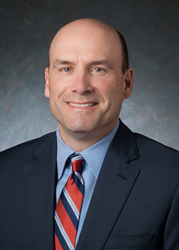 Bill is only the third person to lead the firm in almost 50 years of existence...
Kansas City, MO (PRWEB) August 13, 2014
FCI Advisors, a leading regional registered investment adviser with $5.8 billion in assets under management, and a subsidiary of MTC Holding Corporation, announced today that its board of directors has appointed William Koehler, CFA, as president and chief executive officer. Founded in 1966, with headquarters on Kansas City's Country Club Plaza, FCI serves institutional and individual investors by managing investment portfolios across a broad spectrum of equity, fixed income, alternative and asset allocation strategies.
In succeeding Robert Hunter, who is retiring after 12 years as president and chief executive officer, Koehler will be responsible for providing strategic direction, leadership and broad executive management to achieve the firm's objectives. The FCI Advisors investment teams will report to Koehler, a 32-plus year industry veteran. He will also serve on the FCI board of directors.
"Bill is an accomplished professional with extensive investment experience, vision and leadership abilities," said Bradley Bergman, chairman of MTC Holding Corporation. Bill is only the third person to lead the firm in almost 50 years of existence, following our co-founder Graham Hunt and Bob Hunter, who is retiring after 25-plus years of dedicated service to the firm. Bill's vision will serve FCI's clients well as the firm embarks upon its sixth decade of growth."
"FCI Advisors is an investment management firm with a rich heritage of excellence. I am honored to have been chosen to lead the company," Koehler said. "The future opportunities for FCI are substantial. To best capitalize on them we will continue to focus clearly on our clients' needs, maintaining investment excellence and promoting teamwork. We will continue to offer innovative solutions to our clients based on accessibility, communication and transparency."
"Having known Bill for some time, I know that Bill is the right choice to lead FCI," said Bob Hunter, who will continue to serve on the board of directors as a consultant to the firm. "I've had the privilege of working with an immensely talented group of professionals here and I am confident Bill's leadership will only strengthen the focus on our clients and complement our culture of excellence."
Prior to joining FCI, Koehler, 54, was president and chief executive officer of Tower Wealth Managers, a Kansas City, Missouri based registered investment adviser managing $1.3 billion in assets. Koehler also served as chief investment officer at ETF Portfolio Partners, leading the firm's investment policy formation, capital markets research and portfolio management efforts. Previously, Koehler managed day-to-day investment oversight efforts at American Century Investments, where he was a founding member of the firm's Investment Oversight Committee in 1996. The committee had oversight responsibility for the firm's 32 investment strategies representing over $100 billion in assets under management. Koehler, who entered the investment management profession in 1982, earned his BBA in finance from the University of Iowa and his MBA from the University of Kansas. He holds the Chartered Financial Analyst designation.