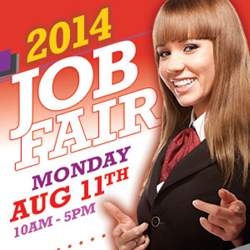 San Francisco, CA (PRWEB) August 04, 2014
BSC Management San Francisco is looking for the best in the business! On Monday, Aug. 11, the consulting and management agency will be hosting a job fair to find employees for a number of their 10 adult clubs. Those interested in a career at one of San Francisco's best gentleman's clubs should stop by to apply in person.
BSC Management will be hiring for a number of hospitality positions, including managers, entertainers (no experience necessary), VIP hosts, bartenders, cashiers, DJs and more. Job-seekers are encouraged to bring a resume and cover letter to apply in person. The agency will be interviewing and hiring on the spot.
"We're looking to find some fresh faces for all of our clubs," said Axel Sang, director of marketing for BSC Management. "If you think you have what it takes, we encourage you to come down and see us. You could end up leaving with a job offer!"
BSC Management is the consulting and management company for the Gold Club, Penthouse Club, Larry Flynt's Hustler Club, Déjà Vu Centerfolds, New Century Theater, Garden of Eden, Roaring 20's, Hungry I, Little Darlings, and the Condor Club, and is looking to hire for all the clubs.
The job fair will run from 10 a.m. to 5 p.m. on Monday, Aug. 11 at the Holiday Inn at Fisherman's Wharf, located at 1300 Columbus Ave 415-771-9000. Parking is available, and after interviewing, attendees are eligible for a free ride up to $25 powered by LYFT.
BSC Management looks forward to seeing all potential candidates at the job fair. Job-seekers should not miss out on this great opportunity for a fantastic career. For more information, text "SFJOB" to 33733 or call 415-434-2868 ext 8.
About Us:
BSC Management is a consulting and management company that manages 10 adult clubs in the San Francisco area. Some of their clubs include the Gold Club, Condor Club, Penthouse Club, Larry Flynt's Hustler Club, Centerfolds, Roaring 20's and more. Several of these clubs have significant historical value. BSC is committed to providing a superior club experience for all guests. They operate each and every club with a level of professionalism, and are always looking to increase each customer's satisfaction. BSC Management is located at 250 Columbus Ave, Suite 207, San Francisco, CA 94133. For more information, call 415-434-2868 ext 8.