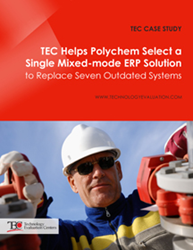 'The expertise delivered by TEC more than met my expectation level, and the attention to detail and involvement by our TEC Project Delivery Manager was exceptional,' – Barry Clifford, CFO, Polychem
Montreal, Quebec (PRWEB) August 07, 2014
Polychem Corporation was facing numerous business challenges primarily due to having multiple outdated systems operating across its departments. With the assistance of TEC's selection services experts, Polychem undertook its first-ever enterprise resource planning (ERP) project and selected a single ERP system to replace its seven legacy systems.
Polychem, based in Ohio, U.S., is a packaging manufacturer offering a full range of strapping equipment. With multiple outdated systems, communication across departments became strenuous. What's more, visibility into the various operating activities across all of the company's business units became extremely difficult.
It was clear that the systems could no longer support Polychem's needs, pushing the company to consider a change, once and for all. According to chief financial officer (CFO) Barry Clifford, the ongoing difficulty of getting the right data at the right time left many decision makers at the company "starving for better information to manage the many endeavors Polychem had been building over the last five years."
Knowing very little about software evaluation and selection, and realizing how challenging the process is, Polychem knew it needed expert help. The company selected Technology Evaluation Centers (TEC) as its trusted advisor.
To get started, Polychem allocated a small team consisting of the information technology (IT) manager, the president, and Clifford himself, working hand in hand with TEC on the company's mixed-mode ERP initiative.
TEC's selection services experts helped clarify Polychem's vision of what it required and what capabilities the vendors offered. With TEC's assistance, Polychem significantly narrowed down the list of potential vendors before finally choosing the best-fit ERP solution to support its business needs.
According to Clifford, "this is the first full-blown ERP project our company has ever taken on. The path to choosing the right partners would not have been possible without the guidance of TEC."
Read the full case study on Polychem Corporation's mixed-mode ERP evaluation and selection project with TEC.
For more information about TEC's software evaluation and selection methodology, contact Evaluation Services at +1 800-496-1303, ext. 404, or e-mail selectionservices(at)technologyevaluation(dot)com.
About Technology Evaluation Centers (TEC)
Technology Evaluation Centers (TEC) is a software advisory firm helping private and public sector organizations around the world make informed enterprise software decisions—saving time, money, and heartache. TEC's online Evaluation Centers, containing IT research and extensive software models that catalog vendors' support for thousands of enterprise software features and functions, are the leading resource for IT decision makers around the world. By combining the online evaluation centers and providing onsite personalized advisory services, TEC has developed its offerings and solidified its unique position operating in the cross-section of the software consulting, analyst, and research markets.
Since 1993, TEC has helped companies make better enterprise software decisions through its impartial approach, 360° industry perspective, decision support technology, and proven expertise.