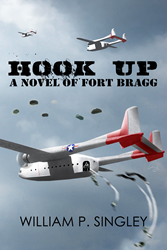 Readers will experience a vanished part of American life, meet some unusual personalities, endure spine-chilling adventure, and discover places and feelings they never knew existed.
Los Angeles, California (PRWEB) August 06, 2014
National Airborne Day has been designated by the United States Congress to honor the nation's Armed Forces airborne. Now, 74 years after the first official Army parachute jump on August 16, 1940, Warriors Publishing Group (WPG) announces "Hook Up: A Novel of Fort Bragg" (978-0-9897983-3-4, 16 August 2014, $14.95, paperback). Written by U.S. Army veteran and former paratrooper William P. Singley, "Hook Up" gives readers a rare, first-hand look at the rigors of barracks life, raucous off-post adventures, and thrilling jump sequences. It's a fast-paced, thrilling story of military excellence pursued and human innocence lost.
Author Singley served at Fort Bragg, North Carolina—home of the Army Airborne—during the novel's 1950s setting. His story relates the struggle of young men trying to become elite paratroopers while being squeezed between the old "brown-shoe" Army and a flood of mostly reluctant draftees mixed with aimless volunteers. He provides a fast-paced and very human look at a rite of passage for many American men that has been largely ignored in popular literature.
"Hook Up" has been praised as "an American Graffiti in khaki and jump boots." Singley tells his story in raw terms laced with insider revelations about how the Army of the era trained men to soldier when there was no war to fight and how to jump out of perfectly good airplanes when there didn't seem to be much motivation beyond a little extra pay. In the novel, Lieutenant Sy Margolin, a Jewish accountant and typical nebbish, develops into a strong and daring leader of enlisted soldiers like Privates Will Patterson and Scott Breslin, who challenge military authority every step of the way to becoming paratroopers. "Hook Up" offers a vivid portrait of the peacetime Army of the late Fifties that bridges the gap between WWII, Korea, and Vietnam.
"Hook Up: A Novel of Fort Bragg" gives readers a close-up, personal, and emotionally moving look at an Army that no longer exists—an Army populated with soldiers who learn hard life-lessons in a crucible where failure can mean the stockade—or the morgue.
"Hook Up: A Novel of Fort Bragg" is available in print from Warriors Publishing Group and in all eBook formats through our partnership with Open Road Media.
Warriors Publishing Group is dedicated to connecting readers to the best in military fiction and nonfiction. Contact us for review copies and interview requests. For review copies or further information, contact Warriors Publishing Group.