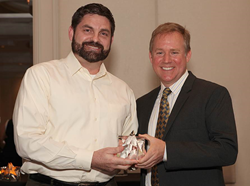 EAST CLEVELAND, Ohio (PRWEB) August 06, 2014
GE Lighting has been recognized with three awards from The Electrical Distributor (tED) magazine's 2014 Best of the Best Annual Marketing Competition.
The awards, which were presented Aug. 5 at the National Association of Electrical Distributors (NAED) AdVenture Conference in Chicago, honor the electrical industry's finest marketing programs. GE took home awards in the categories of product launch, integrated promotional campaign and public relations/community outreach.
"From new product technology to inventive marketing tactics, GE Lighting is committed to highly effective initiatives that help distributors and end users work together to find the best lighting solutions for their needs," said Heather Wilson Coode, Channel Marketing Manager, GE Lighting. "We are grateful to tED magazine for its recognition of our programs and continued efforts to share industry-leading practices through the Best of the Best Award program."
Product Launch: LED Downlights
The product launch for GE's complete line of LED downlight products—the Lumination™ DI Series, Lumination RI Series and Lumination RS Series—featured product literature, intro videos and interactive training tools to reach architects, designers and end users in the retail, office, healthcare and hospitality industries.
Ideal for new construction applications, the DI Series features Infusion™ LED technology, a breakthrough modular design that allows for tool-free upgrade as LED technology advances, ensuring the lowest total cost of ownership. The RI Series, perfect for retrofit projects, delivers exceptional efficacy and 90+ CRI across all lumen packages and color temperatures. Finally, the RS Series is a contractor-grade downlight that is specifically designed for quick installation to reduce labor expense.
Integrated Promotional Campaign: Project Getaway
The Project Getaway campaign was designed around demand creation within the ever-growing LED market among senior level executives in the hospitality space. The campaign showed how GE's hospitality lighting for hotels, restaurants, casinos and conference centers can provide a welcoming, affordable and impressive experience for patrons, such as the LED lighting used in the Las Vegas Sands Corporation retrofit. By utilizing a variety of compelling assets—from custom direct mail pieces and advertising campaigns to educational thought leadership articles and a dynamic customer project video—the Project Getaway campaign resulted in significant lead generation and qualified leads that led to sales closes. The campaign's positive ROI proved it to be a best practice for other campaigns within the company.
Public Relations/Community Outreach: Women in STEM
GE Lighting has a history of promoting science, technology, engineering and mathematics (STEM) to high school students through its work with Cleveland's MC2 STEM school, and now GE is being recognized by tED magazine for promoting careers in the STEM fields to an underrepresented demographic of the STEM workforce: females.
GE's Women in STEM program targets 10-12th grade female high school students from the Northeast Ohio region. The 2013 Women in STEM served as the third annual program hosted by GE Lighting to encourage young women to pursue STEM fields of study and careers and to do so with confidence. The 2013 program included speeches, a college panel and an early career panel that were all led by women in the STEM fields. The annual program reached 65 students in 2011, 104 students in 2012 and 140 diverse female youth from 18 Northeastern Ohio schools in 2013. GE Lighting was also recognized with a Best of the Best Award for its community outreach efforts in 2010 and 2013, marking its third award in this category.
For more than 40 years, tED magazine has recognized the electrical industry's top marketing initiatives with its Best of the Best Award competition. This year's program honored electrical distributors and suppliers with 56 awards in 14 categories for stellar campaigns launching in 2013.
To learn more about LED lighting fixtures, visit gelighting.com. Read more about GE's commitment to innovative solutions to today's environmental challenges at ecomagination.com.
About GE Lighting
GE Lighting invents with the vigor of its founder Thomas Edison to develop energy-efficient solutions that change the way people light their world in commercial, industrial, municipal and residential settings. The business employs about 13,000 people in more than 100 countries, and sells products under the reveal® and Energy Smart® consumer brands, and Evolve™, GTx™, Immersion™, Infusion™, Lumination™, Albeo™ and Tetra® commercial brands, all trademarks of GE. General Electric (NYSE: GE) works on things that matter to build a world that works better. For more information, visit gelighting.com.