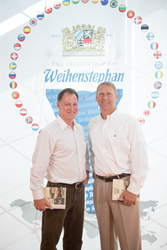 Much of our success is due to doing a lot of little things right that all add up to a big growth story.
MT. PLEASANT, SC (PRWEB) August 07, 2014
Weihenstephan beer importers from nearly 40 countries around the world, gathered in Berlin, Germany July 16-18 to attend the 2014 Weihenstephan World Wide Importer Conference. Total Beverage Solution (TBS) CEO Dave Pardus was asked to give a speech on the contributing factors to TBS's success with importing the brand.
Pardus said he was honored to be able to speak at the conference. "Much of our success is due to doing a lot of little things right that all add up to a big growth story." Little things, Pardus notes, like making sure there is fresh beer in the market, increasing availability, using the unique position of the brewery as the Oldest Brewery in the World, and plenty more." Pardus continues, "The Weihenstephan brand and brewery have the same, if not better, credentials as the best U.S. craft brewery and have been brewing beer for centuries longer."
TBS has been the exclusive U.S. importer of Weihenstephan since 2006. During this time the company has grown this world-class brand from roughly 7,000 U.S. barrels to 40,000 in 2013. In this period TBS grew from the fourth largest export market for the brewery to their largest export market.
Total Beverage Solution is proud of their relationship with Weihenstephan and looks forward to many more years of import success and growth with the brewery.
###
About Weihenstephan: The Bavarian State Brewery Weihenstephan, founded in 1040, is the oldest existing brewery in the world. As a regulated enterprise of the Free State of Bavaria, Weihenstephan brews beers of the highest quality and successfully exports to over 40 countries worldwide, including the United States. The unique combination of tradition and science gives the brewery the quality standard "premium Bavaricum" and has garnered many national and international awards for our world-class beers. Learn more about Weihenstephan at: http://us.weihenstephaner.com/
About Total Beverage Solution: With an expansive portfolio of wine, beer and premium spirits, Total Beverage Solution (TBS) supplies the U.S. market with some of the world's most unique brands. Founded in 2002, TBS is passionate about quality and craftsmanship, and strives to work with producers to create value and demand for brands based on their individual histories and qualities. With this philosophy, TBS has quickly earned a reputation for market expertise and proven sales results. TBS is a four-time Beverage Industry Top 100 company and is headquartered in Mt. Pleasant, South Carolina, and is on the web at: http://www.totalbeveragesolution.com.