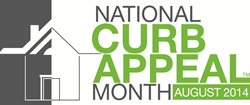 Columbus, Ohio (PRWEB) August 05, 2014
This August, Fypon has launched the first-ever National Curb Appeal Month and Simonton Windows is joining the celebration.
National Curb Appeal Month is dedicated to helping homeowners add value to their home's exterior. What is curb appeal? Curb appeal is simply how attractive a property looks from the street. According to real estate experts, great curb appeal can add 15-20 percent of value to a home while poor curb appeal can devalue a home by 10 percent. With these statistics in mind Simonton is dedicating the entire month of August to helping homeowners create phenomenal curb appeal that neighbors can be jealous of.
With the mass amounts of information about curb appeal floating around it can be difficult to decipher what the most important aspects of curb appeal are and where to start.
"Different curb appeal elements, such as well-maintained shrubbery, decorative millwork and trim, colorful plants and an appealing front entryway can have a fast, positive impact on home buyers, " says Niki Decker, senior manager of product and marketing at Fypon, which launched National Curb Appeal Month.
"If a house is being put on the market, curb appeal is critical because it's the first impression for potential buyers," says Matt Minerd, director of marketing at Simonton Windows. "That's why exterior replacement projects can offer the biggest bang for the buck. Homeowners can recoup almost 80 percent of their cost when replacing their entry door or windows."
Kate Smith, president of Sensational Color, says color is one of the most important aspects of great curb appeal. "Whether a homeowner is adding a new component to the home's exterior or sprucing up existing elements, color plays a major role in creating curb appeal," says Smith. "The front door, shutters and trim are the ideal locations for major color additions that complement the overall color palette of the home."
Other curb appeal elements to consider include:

Washing windows regularly
Adding a fresh coat of paint to the front door
Cleaning and resurfacing walkways
Fixing a sagging fence or leaning mailbox
Adding exterior lighting
For more curb appeal tips visit Simonton Windows at blog.simonton.com.
About Simonton Windows
Simonton Windows produces ENERGY STAR® qualified vinyl replacement and new construction windows and doors, including a line of impact-resistant products. Simonton was ranked #1 in quality in the 2013, 2009, 2007, 2002 and 1998 Brand Use Studies sponsored by Builder magazine and has won three Best In Class Awards administered by LBM Journal Research Institute.
Founded in 1946, Simonton's hallmark has been to deliver the industry's shortest, most dependable lead-times. Part of Fortune Brands Home & Security, Inc. (NYSE: FBHS), Simonton delivers award-recognized products throughout the United States and North America. Simonton is a Founding Sponsor of The Weather Museum, a Lifetime Founding Sponsor of the Lead Safe America Foundation, and a supporter of Homes for Our Troops. For information, call (800) SIMONTON (1-800-746-6686) or visit http://www.simonton.com.
ENERGY STAR is a government program that helps consumers protect the environment through superior energy efficiency and is a registered trademark of the U.S. Department of Energy and the U.S. Environmental Protection Agency.