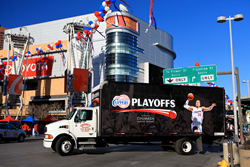 TSN offers levels of scale and pricing that no one can compete with, and I'm thrilled to be a part of the team.
Santa Monica, CA (PRWEB) August 06, 2014
Out-of-home media company TSN Advertising announced that MacKenzie Miller has signed on as its new VP of Sales. Miller joins TSN after spending seven years at the Los Angeles Clippers, where she was a top seller in the team's corporate sponsorship department, winning such sponsors as Porsche, MillerCoors, Chumash Casino Resort, Diageo, and Dr Pepper Snapple Group. This marquee hire is another signal of TSN's growing success and comes on the heels of its expansion into new verticals along with a move to a larger, brand new office in downtown Santa Monica.
Miller first worked with TSN when the Clippers partnered with the company on a truck-side advertising campaign in 2012 that was co-sponsored by Chumash Casino Resort. "When tasked with rebranding our season-presenting sponsor, Chumash Casino Resort," said Miller, "I had to find arenas within LA that were effective and cost efficient without being over saturated and over priced. Utilizing TSN's unique approach to outdoor advertising, I was able to rebrand Chumash in such an effective manner that the partnership with TSN continued through the following season and Chumash hired TSN for their own out-of-home campaign. TSN's ability to measure impressions and quantify its effectiveness puts them way ahead of the curve in a world of 'been there, done that.' TSN offers levels of scale and pricing that no one can compete with, and I'm thrilled to be a part of the team."
"From the start, MacKenzie was a great partner and I could tell her clients loved working with her too," said TSN Advertising CEO, Eric Zdenek. "Mack has the energy and experience we were looking for and we couldn't be happier about having her on board as we continue to expand."
TSN Advertising has experienced rapid growth in 2014, adding major beverage brands like Coors and Leinenkugel's to its client list, as well as entertainment brands like the rock band the Pixies. These client wins demonstrate the appeal and effectiveness of TSN's truck-side advertising platform, while the addition of former Clippers corporate sponsorship seller MacKenzie Miller demonstrates TSN's determination to invest in top talent.
About TSN Advertising
The Signage Network (TSN) is an outdoor advertising company founded in 2012. TSN offers unbeatable rates on mobile billboard advertising by partnering with large, local delivery trucks and wraps them with class. TSN is based in Santa Monica, CA, and operates nationwide.