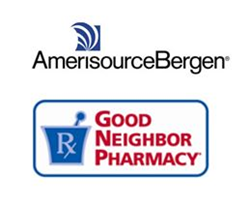 Las Vegas, NV (PRWEB) August 05, 2014
Good Neighbor Pharmacy – a national independent pharmacy network – announced the 2014 Good Neighbor Pharmacy of the Year award winner at its 2014 ThoughtSpot conference and tradeshow in Las Vegas.
The annual award recognizes a pharmacy that epitomizes what it means to be a Good Neighbor Pharmacy.
"Each year, nominees are evaluated on their ability to provide exceptional care to their customers and communities, meet the diverse and evolving needs of their patients, and adapt with the changing healthcare landscape," said Scott Robinson, Vice President, Good Neighbor Pharmacy. "The Good Neighbor Pharmacy of the Year Award honors pharmacies that not only satisfy their customers' needs, but truly go above and beyond in shaping healthcare delivery. Our nominees are not just pharmacists, they are critical businesses and stewards of their communities."
Harry Race Pharmacy, was chosen from more than 60 nominees, and was selected through an integrated digital campaign on GoodNeighborPharmacy.com and the Good Neighbor Pharmacy Facebook page. For the first time patients, peers, neighbors, families, and friends had the opportunity to check out feature videos of the top three finalists and cast their vote online.
With its nostalgic soda fountain, digital photo lab, and gifts department, Harry Race Pharmacy is so much more than your typical pharmacy.
Located 1,000 miles from the next nearest Good Neighbor Pharmacy, owners Dirk and Trish White make it a priority, not only as community leaders who wear a number of hats in order to keep Sitka, Alaska viable, but also as pharmacists who understand their store's role as an access point for their friends' and neighbors' healthcare needs.
To their customers, Harry Race Pharmacy represents all that is good about a small town. Trish and Dirk are vital to their community, and provide individual attention to each and every person who walks into their store. They are making sustainability and authentically "living local" a reality.
"We are proud to be a member of the Good Neighbor Pharmacy network and are honored to be acknowledged as the 2014 Pharmacy of the Year," said Trish White, owner, Harry Race Pharmacy. "The way that we approach our business is the way we approach our customers, to provide unparalleled care and service in the community, and ultimately to be a good neighbor."
The additional two finalists for this year's award included Davies Drugs in Canton, OH and Deines Pharmacy in Beatrice, NE. All nominees were evaluated on leadership in its local community, using best practices to deliver outstanding patient care, innovative marketing and branding, and successful leadership and business operations that help deliver a better bottom line.
ThoughtSpot is an annual conference and tradeshow hosted by Good Neighbor Pharmacy on behalf of AmerisourceBergen, which aims to equip independent pharmacists with practices and resources they can use to transform their businesses to improve profitability and maintain their position as a vital source of patient care in their local communities. For more information, visit: http://www.ThoughtSpot2014.com
About AmerisourceBergen:
AmerisourceBergen is one of the largest global pharmaceutical sourcing and distribution services companies, helping both healthcare providers and pharmaceutical and biotech manufacturers improve patient access to products and enhance patient care. With services ranging from drug distribution and niche premium logistics to reimbursement and pharmaceutical consulting services, AmerisourceBergen delivers innovative programs and solutions across the pharmaceutical supply channel. With over $100 billion in annualized revenue, AmerisourceBergen is headquartered in Valley Forge, PA and employs approximately 13,000 people. AmerisourceBergen is ranked #28 on the Fortune 500 list. For more information, go to http://www.amerisourcebergen.com.