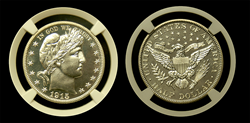 Austin, TX (PRWEB) August 05, 2014
Austin Rare Coins & Bullion (ARCI) announced today it has sold the Grapevine Coin Collection of Proof Barber Coinage to a private client for an undisclosed amount. A leading provider of investment-grade rare gold and silver coins and gold and silver bullion, Austin Rare Coins & Bullion boasts a diverse selection of rare inventory.
This amazing 72-coin collection of extremely high-end Proof Silver coinage took over a decade to complete and contains a superb-gem example of every single Barber Dime, Quarter and Half-Dollar issued from 1892 up to 1915 in proof condition.
Ryan Denby, President and CEO of Austin Rare Coins and Bullion, shared his thoughts on this amazing set: "We were thrilled to handle the Grapevine Collection. Never before have we seen such an outstanding assemblage of this rare material. Each of the Grapevine coins is remarkable in their own regard, but to assemble the whole series with such a high level of eye appeal will most likely never again be replicated. Many of these coins are amongst the finest known or outright finest known in the world today."
Every coin in the Grapevine Coin Collection received a technical grade of Proof-67 or finer from NGC (Numismatic Guaranty Corporation) and was chosen for their flawless appearance and uniformity to the other coins in the set.
Austin Rare Coins, Inc. was founded in 1989 to serve collectors and investors. Their staff is dedicated to providing clients with professional advice and high quality certified U.S. and foreign coins, silver dollars, and gold bullion coins at low prices. Austin Rare Coins & Bullion is a proud member of the Numismatic Guaranty Corp, the Professional Coin Grading Service, and the Industry Council for Tangible Assets. In addition, its principals are members of the American Numismatic Association, the Canadian Numismatic Association and the Texas Numismatic Association. Austin Rare Coins, Inc. has an A+ rating from the Better Business Bureau.
Since 1989, Austin Rare Coins & Bullion has been an industry leader in Gold, Silver, & Rare Coins. Whether you're adding to your current holdings or just getting started, Austin Rare Coins can help you avoid costly mistakes with expert advice and experience. Celebrating their 25th anniversary, Austin Rare Coins & Bullion has a perfect record with the BBB. With new inventory updated weekly, Austin Rare Coins is the place to go for all your precious metals needs.
Buying rare coins has never been easier. With fantastic rare coin collections, silver proof coins, gold coins as well as many others, Austin Rare Coins & Bullion has a wide array of coins for the weekend hobbyist to even the most dedicated of collectors. For more information call 800-928-6468 or visit Austin Rare Coins on the Web at: http://www.austincoins.com.