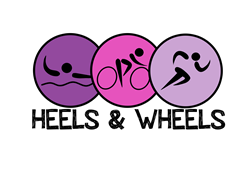 Waycross, Ga (PRWEB) August 14, 2014
Easter Seals Southern Georgia event Heels & Wheels Duathlon & Triathlon will be held Saturday, August 23rd at Laura Walker State Park near Waycross, Georgia. Start time will be 7:30 AM. The duathlon distance is a 2 mile run, 13 mile bike ride, and a 3 mile run. The triathlon distance is a quarter mile swim in Laura Walker Lake, a 13 mile bike, and a 3 mile run.
Registration continues to be open online until August 20th. Day of race registration will be available until 7:00a.m. on the 23rd. For additional information on registering, contact Sara Coggin in the Easter Seals Waycross office at 912-283-4691 or email scoggin(at)swga-easterseals(dot)org. Participants can register as individuals or as 2 or 3 person relay teams in both the duathlon & the triathlon. Heels & Wheels is a USAT sanctioned event and will have a USAT official present. Heels & Wheels is coordinated by DRC Sports. Swag bags and technical tank tops are guaranteed to those registered before Aug 20th. Overall Male & Female and Master's Overall Male & Female in the du & tri will be awarded a case of Regnerate, 100% blueberry juice. Top three finishers in each division will receive a Heels & Wheels towel. All funds raised support the Waycross Megan's House.
Megan's House is a respite home for children ages 0-17 who have developmental disabilities, autism, or are medically fragile. Megan's House provides families a well deserved break with the peace of mind that their child is being cared for by qualified professionals. Megan's House services are provided in three locations, Valdosta, Albany and Waycross.
Easter Seals Southern Georgia provides exceptional services, education, outreach, and advocacy so that people living with autism and other disabilities can live, learn, work and play in our communities. To read more about our services and programs call our office at 229-439-7061 or go to our website at http://www.easterseals.com/southerngeorgia/.