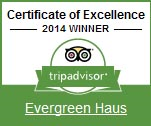 We offer a comfortable atmosphere that promotes a peaceful renewing, and recharging vacation.
Oakhurst, CA (PRWEB) August 06, 2014
The Evergreen Haüs, a truly unique and beautiful custom-built rustic cabin getaway nestled in the beautiful Sierra National Forest, is one of the last rough-cut milled timber cabins built in this area from the lumber-mill era. Evergreen Haüs immerses you in a long-ago time when the area bustled with loggers and gold miners. Sitting among the towering pines, oaks, and manzanita trees, it is the perfect place to see an occasional grazing deer or gaze up at the stars.
"Our primary goal," says owner Eddie Rainwater, "has been to deliver a more European-style Yosemite mountain-cabin lodging experience for our guests. This allows them to truly escape the business of everyday life. We offer a comfortable atmosphere that promotes a peaceful renewing, and recharging vacation."
This year, Evergreen Haüs was awarded the prestigious Trip Advisor Certificate of Excellence Award. In addition to the two existing cabin rooms, two new rooms have just been completed. There is a great common area with living room, fireplace and kitchen which offers a welcoming and comfortable environment. At Evergreen Haus, the rainwaters want you to feel that this is your home away from home.
Guests are encouraged to cook and entertain. Curl up by the fireplace with a good book, or explore the magnificent setting of this amazing lodge. A lot of love and heart has gone into renovating each space to give guests the comforts of today in an area reminiscent of days gone by.
Families can enjoy amenities like the basketball hoop, a trampoline with a safety net, and playground for the littler ones. Future plans include building a pool on the two-acre grounds.
In the winter, build a snowman, make snow angels, or engage in a rousing snowball fight. For couples and singles, there is nothing more beautiful than snow glistening on the treetops of the beautiful Sierra Nevada while sipping a cup of cocoa or lying in bed watching the snowfall.
Evergreen Haüs is 10 miles from Yosemite National Park's south entrance and minutes away from Bass Lake, and the Scenic Byway. Enjoy the day exploring then spend your evening on a private deck gazing up at the stars in a cabin fit for this beautiful mountain area.
With so much to see and do summer or winter, Evergreen Haüs is perfectly situated for the ideal vacation.
Rooms can be reserved online at evergreenhaus.net.