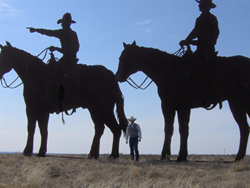 'The availability of Hypertherm systems in a wide range of power levels, as well as torch and consumable configurations gives metal artists the freedom they need to bring their concepts to life.'
Hanover, NH (PRWEB) August 05, 2014
Hypertherm, a U.S. based manufacturer of plasma, laser, and waterjet cutting systems, is highlighting metal artists in its new "Spark to Something Great" metal art contest.
Artists in the United States and Canada who submit a photo of art created with the help of a Hypertherm product will receive a free "I cut anything but corners" t-shirt. The winning entry, selected by a panel of judges, will receive new Powermax accessories and an opportunity to appear in a future Hypertherm marketing campaign.
"Metal artists are constantly turning ordinary metal into extraordinary works of art. This contest is meant to bring visibility to those artists and the work they do with cutting systems," said Reese Madden, Hypertherm's director of North American marketing. "The availability of Hypertherm systems in a wide range of power levels, as well as torch and consumable configurations—including Fine Feature plasma consumables for fine feature cutting—gives metal artists the freedom they need to bring their concepts to life."
The contest, which is already underway, continues through November 30 of this year. People interested in learning more about "Spark to something great" or submitting a photo should visit http://www.hypertherm.com/sparksomething. Photos of entries submitted so far are also available for viewing by clicking the "Vote" tab at the top of the "Spark something" page.
Hypertherm designs and manufactures advanced cutting products for use in a variety of industries such as shipbuilding, manufacturing, and automotive repair. Its product line includes plasma, laser and waterjet cutting systems, in addition to CNC motion and height controls, CAM nesting software, and consumables. Hypertherm systems are trusted for performance and reliability that result in increased productivity and profitability for hundreds of thousands of businesses. The New Hampshire based company's reputation for cutting innovation dates back nearly 50 years to 1968, with Hypertherm's invention of water injection plasma cutting. The 100 percent associate owned company, consistently named one of the best places to work in America, has more than 1,300 associates along with operations and partner representation worldwide.