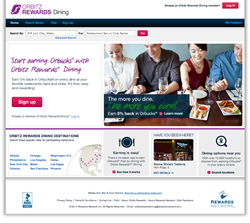 We're delighted to bring this earning opportunity to millions of...consumers through our partnership with Orbitz and the launch of Orbitz Rewards Dining
Chicago, IL (PRWEB) August 05, 2014
Rewards Network, the leading card-linked dining rewards platform, and Orbitz.com, a leading online travel company, today announced the launch of Orbitz Rewards Dining. This all-new rewards program enables members to easily earn Orbucks – the currency of the Orbitz Rewards loyalty program – every time they dine at more than 11,000 restaurants nationwide.
As the pioneer of card-linked marketing technology, Rewards Network provides benefits to three million consumers through the dining programs of more than a dozen premier brands. Orbitz Rewards has grown to more than two million members since the program's launch in October 2013. These two best in class digital services come together through Orbitz Rewards Dining to provide a seamless experience that enables members to simply dine, earn, book travel, and repeat.
Orbitz Rewards members simply visit http://www.orbitzrewardsdining.com, register a credit or debit card, and then use that card to pay for dining at their choice of thousands of program restaurants across the country. There are no loyalty cards, coupons or vouchers to show. Members automatically earn five percent of dollars spent on each dine in Orbucks, or seven percent total in Orbucks when using their Orbitz Rewards Visa card. Orbucks can be redeemed on the Orbitz app for iOS and Android or the Orbitz.com website when booking tens of thousands hotels around the world.
"Our years of experience with leading travel partners confirm that earning travel rewards by dining is highly compelling to consumers," said Dan Hess, chief corporate development officer of Rewards Network. "We're delighted to bring this earning opportunity to millions of additional consumers through our partnership with Orbitz and the launch of Orbitz Rewards Dining."
Orbitz Rewards Dining is free to join. Members can visit http://www.orbitzrewardsdining.com from any desktop, mobile or tablet device to register and find restaurants that will let them effortlessly earn rewards toward future vacations – even while on vacation. The recently-launched Orbitz Rewards Visa card, which lets members earn Orbucks on everyday purchases, automatically earns Orbitz Rewards Dining benefits at program restaurants.
"Dining is such a big part of the travel experience that it was a logical next step for us to offer Orbitz Rewards Dining to our members and give them the opportunity to earn travel rewards throughout their entire vacation," said Sarah Butterfass, senior director of loyalty for Orbitz Worldwide. "We are pleased to work with an experienced partner such as Rewards Network to keep our customers engaged with Orbitz Rewards and continue earning Orbucks towards their next vacation not only when dining while traveling but even when they are eating at their favorite restaurants near home."
Orbitz Rewards Dining is the newest addition to the Rewards Network portfolio of dining programs, through which members can earn rewards such as airline miles, hotel points, retail rewards, charitable donations and more.
About Rewards Network
Rewards Network (rewardsnetwork.com) is a results-driven, measurable card-linked marketing platform that helps restaurants fill more tables and build a loyal customer base. Rewards Network provides access to millions of passionate diners, driving new and repeat visits by offering rewards such as airline miles, hotel points, charitable contributions, and more. The company promotes restaurants to diners via web, email, social media, and mobile marketing, and also provides valuable customer feedback and performance tracking to help restaurants improve service and increase profits.
About Orbitz.com
Orbitz.com is a leading travel website that enables consumers to search for and book a broad range of hotels, flights, car rentals, cruises, vacation packages and destination activities. Since launching in June 2001, Orbitz.com has become one of the world's largest online travel sites. Orbitz.com now offers the groundbreaking Orbitz Rewards loyalty program—the only program where customers can earn rewards immediately on flights, hotels and packages, and redeem instantly on tens of thousands of hotels worldwide. Use the Orbitz Rewards Visa® Card to earn even more rewards. Orbitz.com is the #1 way to book travel on mobile devices, be it using our apps (get them at http://www.orbitz.com/mobile) or our smartphone-optimized website (m.orbitz.com), both of which are tailored for smartphones and tablets. The Orbitz app won the 2014 Appy Award for best travel app. Orbitz also ranks #1 in Online Travel Website Customer Satisfaction in the 2014 American Customer Satisfaction Index. Follow Orbitz on Facebook, Twitter and through the Orbitz Travel Blog. Orbitz.com is operated by Orbitz Worldwide.
Press Contact: Cheryl Parsons, cparsons(at)rewardsnetwork(dot)com, 312-291-5830