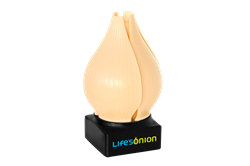 "The Life's Onion Group has given participants a framework to understand the processof peeling away feelings and thoughts that can contribute to self-destructive behaviorsand ultimately return them to an addictive based lifestyle if not resolved,"
Fort Lauderdale, FL (PRWEB) August 06, 2014
Life's Onion is a handheld, onion-shaped device with 12 peels which transforms into a flower when opened. Clients record their therapeutic goals and achievements on the actual peels, converting them to flower petals as progress is made. While there are other methods of tracking clinical improvement, Life's Onion is the only product in the marketplace that tracks people's progress in a tangible, visual form and stays with them after therapy to reinforce their successes. In fact, Life's Onion was considered novel and different enough to be granted a patent (US patent 8,636,518).
'Peeling away the layers of the onion' is a concept that has long been established with the people and professionals involved in the psychological and self-help fields; this makes Life's Onion a natural fit for many counselors and rehabilitation facilities.
According to a 2010 study in the journal Psychotherapy: Theory, Research, Practice, Training; published by The American Psychological Association, as many as 41% of patients in the U.S. quit psychotherapy prematurely.
"I felt that a tangible, interactive tool could be a powerful addition to the abstract ideas and principles emphasized in many therapeutic modalities," said Mark Wetherbee, Simple Ideas founder and CEO. "Something that might more thoroughly engage the client's focus and foster a positive client-therapist relationship by serving as an ongoing reminder of the core issues being addressed. To this end, I began to develop Life's Onion."
In addition to the tool itself, there is a full package of support materials (implementation guides, client planning templates, an exit survey, easel boards) designed to integrate Life's Onion into existing programs. These materials give clinicians a common framework for session planning, client assessment, and data collection.
Simple Ideas has spent over 3 years working in conjunction with clinical leadership to evolve and refine this tool. The feedback from pilot group participants, therapists, and facility staff has all been outstanding. Life's Onion is now being made available publicly.
"The Life's Onion Group has given participants a framework to understand the process of peeling away feelings and thoughts that can contribute to self-destructive behaviors and ultimately return them to an addictive based lifestyle if not resolved," Said Alan Goodstat, Senior Vice President of Lakeview Health Systems, where numerous Life's Onion pilot groups were conducted. "In addition, it provides the primary therapist an additional intervention tool to achieve treatment planning goals and discharge planning needs. Also, we noticed the group members bond quicker as they have a common path to achieve their individual needs."