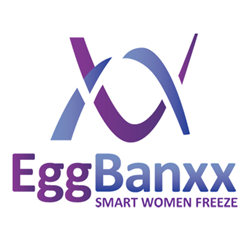 New York, New York (PRWEB) August 05, 2014
EggBanxx recognizes RMA of New York as a trailblazer in the field of reproductive medicine and confidently trusts the team of eleven reproductive endocrinologists to provide compassionate, comprehensive treatment to women interested in the procedure. In addition, EggBanxx has selected Dr. Alan B. Copperman, Founding Partner and Medical Director of RMA of New York, to serve as Board Chair of the organization.
"EggBanxx is experiencing tremendous growth over the past several months alone," commented Jay Palumbo, Director of Patient Care at EggBanxx. "More women are being proactive about their reproductive health and are thinking ahead to secure their options for conception when they're ready to build, or expand, their family. Raising awareness of their options helps to empower women, enabling them to take control of their reproductive future. We are pleased to have RMA of New York partnered with the initiative to treat New York City women with the highest level of expertise and technological innovation available for the procedure. We are honored to appoint Dr. Alan B. Copperman as Board Chair and are thrilled to have him lead our network of elite specialists."
Reproductive Medicine Associates of New York is widely recognized as a national and international leader in state-of-the-art reproductive medicine. RMA of New York's team of physicians and embryologists have been at the forefront of reproductive medicine since 2001 when the facility first opened its doors, and have published extensive research studies which have been presented at global scientific and medical conferences. RMA fertility doctors have been named to New York Magazine's Best Doctors for over 13 consecutive years, and are regularly featured in the media covering groundbreaking topics related to egg freezing and infertility.
"Advances in egg freezing have empowered women to take action, control their own destiny and lay the foundation to someday build the family of their dreams," says Dr. Alan B. Copperman. He adds, "We have worked with the parent company of EggBanxx, Fertility Authority, for several years now and recognize their efforts in improving awareness among women of their reproductive options. It is with great enthusiasm that we join the EggBanxx network."
EggBanxx will be hosting their first New York City event on Tuesday evening, August 12th at The NoMad Hotel, 1170 Broadway at 28th Street. The informational event is specifically catered to women interested in learning more about egg freezing, allowing them to utilize the combined benefits offered by EggBanxx and its network. Guest speakers from EggBanxx fertility care providers, including RMA of New York board certified reproductive endocrinologist, Dr. Jaime M. Knopman, will be addressing common questions covered in the media today. The event will provide an excellent opportunity for women to connect in a relaxed setting and start thinking about their reproductive health and goals for future family planning. RSVP information is below.
To RSVP for EggBanxx New York's August 12th Event: http://bit.ly/1xzDdsN
To learn more about EggBanxx, call: 855-552-2699
To find a Fertility Doctor near you, call: 855-955-2229
Media Inquiries to: Robin McCarthy: 646-350-0748
About FertilityAuthority
EggBanxx.com, owned by FertilityAuthority, is part of a family of websites providing comprehensive, interactive resources and referrals for women and men seeking quality fertility information, as well as tools to simplify the search for trusted fertility doctors or fertility clinics. With more than one million monthly visits, the websites FertilityAuthority.com, FertileThoughts.com, IVFAdvantage.com, EggFreezingCosts.com, EggBanxx.com, GenderSelectionAuthority.com— along with a staff of patient care coordinators — assist in making the important connection between patients and the physicians who can assist them in their family-building efforts.
About Reproductive Medicine Associates of New York
Reproductive Medicine Associates of New York (RMA of New York) is a national and international leader in state-of-the-art, compassionate reproductive medicine. The integrated team of physicians and scientists at RMA of New York has extensive experience and training in reproductive endocrinology, fertility and urology, and consistently reports high success rates to the Society for Assisted Reproductive Technology (SART) and the Centers for Disease Control and Prevention (CDC). RMA of New York's achievements in the treatment of infertility have been internationally recognized, and the group maximizes access to care by assisting patients in exploring all available insurance coverage and financing options. RMA of New York is sensitive to the needs of the LGBT community, women choosing single or same-sex motherhood, and women pursuing fertility preservation for elective and medical indications, including those in need of oncofertility services.
Headquartered on the Upper East Side of Manhattan, RMA of New York has patient care facilities in Lower Manhattan, Brooklyn, Garden City, White Plains, and Cornwall, NY. Additionally, RMA of New York has patient care facilities in Mexico City, Mexico. For more information, visit http://www.rmany.com.