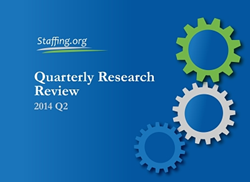 Search engines can't find the research CHROs want. Search engines are useful but not for locating good research.
Norwalk, CT (PRWEB) August 06, 2014
Staffing.org, a leading staffing research company, just released the Q2 Edition of its newest product, the 'Quarterly Research Review,' to help recruiters sort through the best research from more than 125 major sources.
This new product is intended to help recruiting executives easily access the critical information they need for benchmarking, proposal writing and strategizing.
In addition to their own research, Staffing.org regularly reviews research published by others — roughly ten studies per quarter. They collect these reviews, organize them topically and publish them in catalog form.
The Q2 Edition provides summaries of selected, new research from: Creelman Lambert, KellyOCG, Aberdeen, i4cp, TATA, Mercer, Harvard Business School, Boston Consulting Group and Ernst & Young.
When authoritative current research is needed, often on short notice, locating it is time-consuming and frustrating.
According to Staffing.org, "search engines can't find the research CHROs want. Search engines are useful but not for locating good research." There are 5 reasons why:
1. Most of what they provide are lists of materials we call "research lite" — vendors' content marketing pieces, magazine articles and blog posts. It's hard to put a substantive business argument together from these bits and pieces.
2. Corporate staffing activities lack a common language. Great material can be tagged in different ways, which each algorithm interprets differently.
3. Search algorithms do a poor job evaluating quality. If a brilliant piece of research doesn't receive many hits — and not many do — it will appear far down in the search results. People are still far and away the best judges of what's good and what's not.
4. Algorithms also don't know how time affects relevance or which sources are the most reputable.
5. And they can't find material that's hidden behind a membership or registration page.
The Q2 issue of the Quarterly Research Review is available now at Staffing.org. It is also included in Staffing.org's Research Membership.