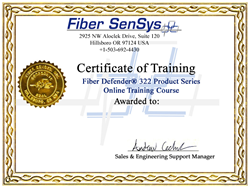 "Online training saves worldwide security specifiers, installers and systems integrators a significant amount of time and money, without sacrificing high-quality factory training requirements." - Bill Evenson, Vice President and Global Sales Officer
Hillsboro, OR (PRWEB) August 05, 2014
Fiber SenSys, Inc. (FSI™) is pleased to announce the FD322 Perimeter Security Online Certification and Training Program, which is now available from the company's website. To address the need for proper installation, tuning and calibration requirements, the FD322 Online Training Module facilitates certified installer status without the need to travel to the corporate headquarters. The free testing module consists of six online videos and a short quiz associated with each video. Designed specifically for lower-cost industrial and commercial fence security applications, the FD322 Fiber-Optic Intrusion Detection System is a fiber-optic perimeter security intrusion detection sensor with two zones of protection for each Alarm Processor Unit (APU). The FD322 solution is also available as a complete pre-connectorized KIT, sold as the FD322-Rapid Fiber™.
"We are excited to offer the FD322 Online Certification Module to meet customer requests for a simple, yet powerful tool to certify installers without the typical need to travel," said Bill Evenson, Vice President and Global Sales Officer at Fiber SenSys. "In today's security industry, the ability to get certified online for a perimeter security product is groundbreaking, and is an industry-first online training and certification module. This capability saves worldwide security specifiers, contractors, installers and systems integrators a significant amount of time and money, without sacrificing high-quality factory training requirements," Mr. Evenson added.
To access the training module, customers and industry partners must register on the FSI website (http://www.fibersensys.com). At the successful completion of the online quizzes, students are awarded a printable certificate, indicating they have completed the module and are certified to install the FD322 low cost fiber-optic perimeter security system.