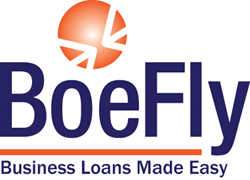 ...As a banker, I know the process of getting a loan can be quite lengthy. Instead of going bank to bank, which is inefficient, I used BoeFly to complete one bank-ready financing request online and get matched to lenders that were interested in my loan.
Asheville, North Carolina (PRWEB) August 06, 2014
Meet the Lorenz family, a husband and wife duo that were looking to fulfill their dream of becoming business owners. Jerome Lorenz with a background in business finance and banking along with his wife Vladimira a former executive assistant wanted to be able to provide high quality child-care to children and parents in the Asheville area, but with little child-care experience they knew franchising was the best option. Thus, they looked to Kiddie Academy® Child Care franchise for expertise and training to make their dreams a reality.
The Lorenz's knew that an important piece of getting their first business up and running would be receiving start-up financing. Luckily, "the first piece of advice that Kiddie Academy® gave us was to turn to BoeFly to streamline the process of getting a loan. As a banker, I know the process of getting a loan can be quite lengthy. Instead of going bank to bank, which is inefficient, I used BoeFly to complete one bank-ready financing request online and get matched to lenders that were interested in my loan. The process worked and I am happy to report that after getting 16 lenders reviewing my deal I chose a lender in North Carolina that was the best fit for me," said Jerome Lorenz.
When the Lorenz's submitted their loan request to BoeFly, they received several funding offers from lenders. They ultimately chose to work with Craig Kaffenberger, a Commercial Lender.
"I am pleased to have met the Lorenz's through BoeFly's marketplace. BoeFly has been a great way for me to access bank-ready borrowers and increase my deal flow at T Bank, as well as at my previous bank.," said Craig Kaffenberger.
The Lorenz's decided to develop the Kiddie Academy® of Asheville in South Asheville due to demographics showing more, young families and businesses are locating in the South Asheville and North Henderson County region. Kiddie Academy® of Asheville will soon be open giving those in the Asheville area access to quality, center-based child care.
"At Kiddie Academy®, we offer our franchisees resources like BoeFly so that the franchisee is armed for success from the beginning," said Lene Steelman, Vice President of Finance of Kiddie Academy. "This success story is yet another example of how BoeFly has helped our franchisees get connected to the right lenders, which in turn has enabled the Kiddie Academy® system to grow."
"It is a pleasure to partner with a franchise system like Kiddie Academy® that supports its franchisees throughout the process from the ground up," said Mike Rozman, co-president of BoeFly. "Kiddie Academy® knows that helping its franchisees access small business loans more efficiently through BoeFly's business lending made easy marketplace, allows the franchisees to focus on training, hiring, marketing, and all the other pieces that go into opening a Kiddie Academy® ."
About BoeFly
BoeFly makes it easier to obtain small business loans (http://www.boefly.com/) by reducing the time, cost, complexity, inefficiency and frustration associated with small business lending. Its online proprietary matching technology connects small business borrowers with multiple lenders from among its more than 3,600 participating banks, based on the lending profiles provided by the banks and the information provided in the borrower's loan request.
Before seeking a loan business borrowers can find out their fundability and may get prequalified for a business loan through bQual™. The bQual™ report will deliver a business borrower's FICO SBSS Small Business Credit Score (used by lenders nationwide and required for SBA loans), a personal consumer credit score and credit bureau report, and a detailed financing assessment of a borrowers fundability.
Integrating the bQual™ scores into the loan seeking process on BoeFly, borrowers can connect with multiple lenders quickly and easily, providing a greater probability of obtaining a loan, as well as more favorable loan terms resulting from the creation of a competitive marketplace. Lenders benefit by being presented with those loan requests that fit their lending profile, dramatically lowering their cost and time of origination. BoeFly is not a broker. Borrowers pay a small one-time fee and lenders pay an ongoing subscription fee.
BoeFly, now a strategic ally of the International Franchise Association to expand credit access within the franchise community (http://www.boefly.com/ifa.cfm), offers a Franchise Solution bringing these benefits to the large and growing small business franchisee community and is the choice of more than 125 brands, including Dunkin' Donuts, Carl's Jr., and Kiddie Academy, among many others.
BoeFly was founded by small business owners and small business lending experts with extensive small business lending experience. The company is privately-held and is based in New York City. http://www.boefly.com.
About Kiddie Academy®
For more than 30 years, Kiddie Academy® has been a leader in education-based child care. The company serves families and their children ages 6 weeks to 12 years old, offering full time care, before- and after-school care and summer camp programs. Kiddie Academy's proprietary Life Essentials® curriculum, supporting programs, methods, activities and techniques help prepare children for school and for life. Kiddie Academy is using the globally recognized AdvancED accreditation system, signifying its commitment to quality education and the highest standards in child care. For more information, visit http://www.kiddieacademy.com.