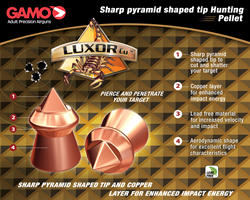 Fort Lauderdale, FL (PRWEB) August 06, 2014
Gamo® Outdoor USA (http://www.gamooutdoorusa.com), the leading manufacturer of high quality air guns, optics, and laser designators, will release a premium new .177 Cal and .22 Cal hunting pellet that can acquire up to 20% more velocity than a standard lead pellet. The Luxor Cu™ Hunting Pellet has aerodynamic shape for excellent flight characteristics, and it's lead free material for increased velocity and more terminal penetration while still maintaining a stable flight trajectory.
The Luxor Cu™ Hunting Pellet features an innovative sharp pyramid-shaped tip that enables it to cut and shatter your target. The aerodynamic shape enables this pellet to have excellent flight characteristics and ballistic coefficients. This non-lead pellet has a copper layer that retains 100% of its weight after expansion retaining velocity and energy. The 150 quantity tin of Luxor Cu™ Hunting Pellet .177 Cal retails for $18.95, while the 100 quantity tin Luxor Cu™ Hunting Pellet .22 Cal retails for $19.95.
Gamo® is a world leader in the production of top quality, accurate, air gun ammunition. Today, Gamo® produces a huge pellet range for every kind of shooter - from training pellets, target shooting pellets, to high performance pellets for hunting.
For press inquiries, please email Fedor Palacios, Marketing Communications Manager at fpalacios(at)gamousa(dot)com.
Gamo Outdoor USA is a leading consumer products company that designs, manufactures, and markets a diverse portfolio of outdoor sporting goods products under such world class brands as GAMO®, BSA Optics®, Laser Genetics®, Aftermath®, Joker Knives® and is the exclusive distributor of BSA Guns™.
For more information, visit:
http://www.gamousa.com
Facebook.com/GamoOutdoorUSA
Twitter.com/GamoOutdoor
YouTube.com/GamoOutdoor