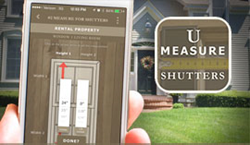 Measuring for outdoor window shutters just for easier with the UMeasure Mobile App, from Timberlane.
Montgomervyille, PA (PRWEB) August 05, 2014
Timberlane, Inc., manufacturer of the world's finest exterior shutters, unveiled its new mobile application designed to assist with shutter measurements. UMeasure Shutters is part of the Timberlane Shutter MD (Measure & Design) Kit.
One of the most time-consuming and concerning steps in ordering custom shutters is taking the proper measurements. Since Timberlane custom builds exterior shutters to specifications, exact measurements are required very early on during the shutter building process and are crucial to the outcome of one's shutters.
UMeasure is designed to walk the customer through the steps of the measuring process, and to guide them through each individual measurement by visually showing the best way to take them.
"Our goal for this application is to enhance the experience for our customers and show them that have our support through the course of their project, especially during the most essential step. At Timberlane, we thrive on making the experience memorable and what better way to help, then to virtually be by their side," said Rick Skidmore, President and CEO of Timberlane, Inc.
This tool is designed to be used by both homeowners and professionals alike. All users have the ability to take measurements for their own home, or manage multiple projects individually. Copying a specific window and project details, selecting window and wall styles, and direct app-to-call access to a Timberlane Specialist are just a few features and benefits of this mobile application.
UMeasure is a free app that is designed for the iPhone, iPad and iPod Touch. It is compatible with iOS 7.0 or later and it is optimized for the iPhone 5. The Android version is also available for download. To learn more about the program please visit http://www.timberlane.com/umeasure.
About Timberlane:
Headquartered Montgomervyille, PA, The Timberlane brand has become synonymous with exceptional quality and is regularly specified by some of the most respected and influential architects, decorators, contractors, and historians throughout the US and beyond. With a near infinite number of options for our standard exterior shutters, including panel configurations, cut outs and radius tops, along with the full customizations and matching capabilities.
Timberlane is able to fulfill even the most exacting needs and specifications, across our product lines designed to suit a variety of project budgets, right here in our factory, producing the finest American Made shutters. Timberlane also offers the largest collection of hand-forged and period-perfect shutter hardware available including: shutter hinges, pintels, slide locks, pull rings, and tie back (shutter dogs). For more information about the world's finest exterior shutter please visit our website: http://www.timberlane.com.