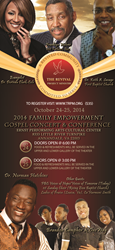 Annandale, Virginia (PRWEB) August 05, 2014
On Friday October 24th & Saturday October 25th, the Revival Project Ministry (a community service organization) is hosting a Fall 2014 Family Empowerment Gospel Concert & Conference at Ernst Performing Arts Cultural Center (Northern Virginia Community College – Annandale Campus). The event will feature Grammy Awarding Evangelist Dr. Dorinda Clark-Cole, awarding winning gospel artist Dr. Norman Hutchins, Brandon Camphor & OneWay and much more.
The cost for this dynamic 2-day event is only $35. Registration is now open at http://www.trpm.org. Parking is provided as well as refreshments in the upper and lower gallery. Saturday a fellowship reception will take place from 3:30 p.m. to 5:00 p.m. in the banquet forum. Proceeds will go to benefit "A Servant's Promise" project that focuses on community development and literacy programs.
Alternatively, the Revival Project is seeking volunteers to work the registration tables as well as event ushers. All volunteers who commit to serve both nights will be able to attend the concert and conference for free. Doors Open at 6 p.m. on Friday and 3 p.m. Saturday.