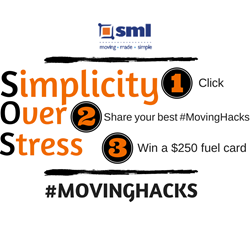 With more than 43 million people moving this year, organization is a must.
Bedford, Texas (PRWEB) August 05, 2014
Learn the secrets to packing and organizing that won't leave you tearing your hair out when Simple Moving Labor (SML) interviews Erin Kelly, owner of Arranged by Erin. SML coordinated the Facebook interview as part of its celebration of "Simplify Your Life" week.
"I look forward to sharing some really fantastic tips and advice to keep moving day moving," said Erin.
Send in your questions on SML's Facebook page or via Twitter @SimpleMoving. The interview will take place via Facebook.
As SML proudly celebrates "Simplify Your Life" week, we repeat a mantra we believe in all year long – Move Simply.
On top of the tip-packed interview, this week SML launches Simplicity Over Stress, a promotion encouraging people to share their best #MovingHacks for the opportunity to win a $250 fuel card.
The average American moves 11.7 times during their lifetime, according to the U.S. Census Bureau, and moving tops many people's lists as one of life's more stress activities. This year alone, more than 43 million people will pack and move.
ABOUT SML: Founded in 2007, SML is the nation's leading provider of moving labor services – help loading or unloading your rental truck or storage unit – as well as door-to-door full service moves. No matter your moving needs, SML delivers the manpower, work ethic, customer service, and expertise to make your next move a simple move.
ABOUT ARRANGED BY ERIN: At Arranged By Erin we are determined to bring the benefits of leading a clutter free life to everyone. We focus on teaching our clients not just how to organize, but how to STAY ORGANIZED. We don't offer any "cookie cutter" solutions. Since Arranged By Erin puts our clients needs first, those needs drive the structure of every solution we put into place, so our programs are as unique as our clients themselves. Arranged by Erin has extensive experience working with ADD/ADHD, severe hoarding, and the chronically disorganized.