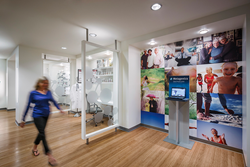 In many ways, we're addressing what the marketplace is telling us — that there really is an opportunity here for us.
Irvine, CA (PRWEB) August 04, 2014
A new partnership between award-winning design firm LPA Inc. and Rick Wood, AIA, an architect and previous partner at WBSA, means greener, higher quality architecture for health care facilities. On August 4, 2014, Rick Wood and key members of his professional staff will join LPA to form LPA Healthcare, a new studio at the Irvine-headquartered integrated sustainable design firm.
LPA's strong 49-year history of providing sustainable design for public, private and developer projects — grounded in a process where designers creatively use project budgets to interpret brand image and tell a client's story through the built environment — is being successfully applied to the health care industry. With more than 25 years of health care industry experience, Wood and his team bring a depth of technical expertise and knowledge to LPA's growing health care practice.
Wood is one of a number of principals leading the design, engineering and management of projects for LPA Healthcare clients. Wood's expertise and passion for healthcare design complements LPA's strength and expertise in commercial office buildings, creative interior spaces and the holistic integration of an architectural and engineering practice. Bringing this combination of skill sets and approach to health care is an exciting development for the fast-changing industry.
"In many ways, we're addressing what the marketplace is telling us — that there really is an opportunity here for us," explains LPA President Dan Heinfeld, FAIA. "We think that the pairing of Rick and our firm give a really exciting new opportunity in the marketplace to address the industry's changes."
Wood mirrors Heinfeld's sentiments, explaining the ways in which the two groups will build on one another's strengths: "The integration of LPA's experience serving the developer industry to find cost-effective solutions, coupled with the technical experience of providing health care design services with ever-increasing complexity will bring something to the table, which I believe will be very beneficial to our clients as the cost of health care delivery continues to rise."
Now is the opportune time for integrated design in the evolution of health care. With the institution of the Affordable Care Act and the aging Baby Boomer demographic, the industry is facing a pivotal moment in history. According to Heinfeld, clients have expressed that they require a cost-effective space that promotes wellness and improved results and outcomes.
"We have a saying at LPA that we use all the time — doing more with less," says Heinfeld. "So it's providing more design with fewer resources. That's exactly what this charge is going to be about in health care."
LPA Healthcare will bring a unique approach to design that has not been seen in the industry before. The studio seeks to assist health care facility administration and staff in accomplishing their goals of healing patients and increasing wellness in more efficient ways without sacrificing the quality of care and patient experience.
According to Karen Thomas, CID, LEED AP BD+C and principal at LPA, with an integrated sustainable design approach, designers look at a project from every angle from start to finish. Teams of in-house architects, designers, medical planners and engineers collaborate in real-time, with a focus on sustainability, efficiency and cost-effectiveness. The result is completely customized, branded environments for healing spaces, based upon the patients' and providers' needs.
"A key challenge is being able to appropriately and cost-effectively interpret a brand image within a healthcare space. LPA brings a keen expertise to clients in this area, with almost a retail approach to branding and to facility design that's rarely seen in health care facilities," says Thomas.
Thomas explains that, ultimately, this effort in branding and efficiency places the users at the focus of everything LPA Healthcare is doing. Improved patient experience and efficient clinical operations are key goals of LPA's clients.
"As designers, we're looking at how we respond to patients and providers in a way that really resonates with them through design, color, lighting and wayfinding. We're attuned to designing for the user, recognizing that integrated sustainable design allows people to actually heal by their environment."
For interview opportunities or more information about LPA Healthcare, please contact Karen Thomas at 949-701-4121 or kthomas[at]lpainc[dot]com.
About LPA Inc.
Founded in 1965, LPA has more than 200 employees with offices in Irvine, Roseville, San Diego and San Jose, Calif. and San Antonio, Texas. The firm provides services in architecture, sustainability, planning, interior design, landscape architecture, engineering, and graphics. There is no "Sustainability Director," at LPA. Instead, more than 80% of the professionals are LEED accredited, including the Human Resources Director, CFO, and several other support staff. With extensive experience in public and private architecture, LPA designs a diversity of facilities that span from K-12 schools, colleges and universities, to corporate and civic establishments. More than 600 major design awards attest to LPA's commitment to design excellence. For more information, visit LPAinc.com.
###