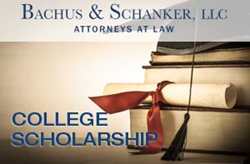 We understand the dedication and motivation necessary to obtain a degree in today's academic environment, and want to help ease the burden for students who have the desire to advance their career. Founding Partner, Darin Schanker
Denver, CO (PRWEB) August 05, 2014
Understanding the importance of a quality education, Bachus & Schanker, LLC will begin awarding two $2000 scholarships to help full-time college students across the U.S. focus on their intellectual development and career goals.
Starting August 1, the Denver-based law firm will begin accepting 800-word essay submissions from interested students. Up to two recipients will receive $2,000 scholarships that will be given in August and again in January 2015 to help offset tuition fees for the upcoming semesters.
To qualify for the August scholarship, each student must write an essay about his or her opinion(s) on the importance and efficacy of the Seventh Amendment. They must think critically about the right to trial by a jury and how the amendment affects their lives. Respondents should consider the entirety of the amendment, rather than the well-known nutshell explanation of the right to trial by jury.
Students also must meet the following criteria:

Be enrolled full-time in a four-year U.S. university
Maintain a 3.0 cumulative grade-point average or higher
Submit their 800-word essay by August 15, 2014 for the fall semester and Nov. 30, 2014 for the spring 2015 semester as a .doc or .pdf attachment to scholarship@coloradolaw.net
Bachus & Schanker has a strong history of philanthropic giving. The desire to give back led to the creation of the Bachus & Schanker Cares Foundation in 2009, which has donated about $360,000 and enabled employees to volunteer an estimated 2,000 hours to worthy organizations to date.
About Bachus & Schanker, LLC
Bachus & Schanker, LLC is a nationally recognized Denver law firm with a robust employment law practice and additional offices in Colorado Springs and Fort Collins, Colo. In addition to employment law, Bachus & Schanker is a well-respected personal injury firm also specializing in workers' compensation, medical malpractice, wrongful death, insurance disputes, nursing home neglect/abuse, national defective product and medical device litigation and Social Security disability insurance.
With a staff of more than 70 people, including 20 trial lawyers, Bachus & Schanker has represented thousands of clients across the country. Bachus & Schanker is committed to protecting and enforcing the rights of people injured by the negligence of others, offering to each client a level of representation and personal attention usually reserved for only the most powerful corporations. The firm supports local nonprofits through its Bachus & Schanker Cares Foundation. Visit Bachus & Schanker at http://www.coloradolaw.net/ to learn more.