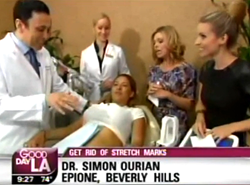 Los Angeles, CA (PRWEB) August 05, 2014
According to a July 24, 2014 report posted on the website of Elle Magazine titled "Could a European Weight Loss Program Really Suck My Fat Away?" the author visited a spa in Turkey to undergo the Hypoxi Marathon Program. The claim for this program is that it will shrink the participant one dress size in just four days. The program includes a morning hike, two training sessions per day, and a low-carb meal plan. (See: goo.gl/dPUjlY)
"I am skeptical about the reported results," says Dr. Simon Ourian, Medical Director of Epione Beverly Hills. "I don't believe that spot reduction of fat can be accomplished with compression. Of course, if one were to combine a restricted, monitored diet with greater than usual exercising, one should expect to lose weight and inches. A hike plus two daily workouts is not typical for most people."
According to the Elle Magazine article, a key component of the Hypoxi Marathon Program is the use of compression and suction during exercise to improve circulation and widenithe vascular highway. The suction is purported to pull blood flow through the fat tissue, drawing fat into the blood vessels to supply the body with energy during exercise. In addition, suction is supposed to decrease bloat by forcing excess body fluids into the lymphatic drainage system.
"Unfortunately, there is no real shortcut to weight loss and maintenance," says Dr. Ourian. "The immediate results reported notwithstanding, I don't believe this program is a recipe for long-term success."
Dr. Ourian has been a pioneer in laser technology and non-invasive aesthetic procedures including Restylane, Juvéderm, Radiesse, Sculptra, and CoolSculpting. These treatments are used for the correction or reversal of a variety of conditions such as acne, acne scars, skin discoloration, wrinkles, unwanted fat, stretch marks, varicose veins, cellulite, and others. More information about weight loss can be found on Epione's website.