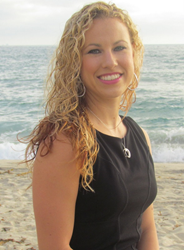 I am proud to be part of this team, and am looking forward to helping other individuals, families, and professionals learn more about Castlewood.
St. Louis, MO (PRWEB) August 05, 2014
Castlewood Treatment Center welcomes Kira Olson to its marketing team. Kira was recently named Director of Regional Outreach--West Coast, and will be based at Castlewood's Monarch Cove facility.
Kira position will allow her to represent Castlewood as she participates in events and conferences throughout the west coast. She will also be responsible for helping the marketing team build partnerships with others in the treatment field, and to help create awareness for Castlewood and Monarch Cove's programs.
Working in the behavioral and mental health industry for more than eight years, Kira brings her own clinical experience to the Castlewood team. She received a bachelor's degree in exercise science and psychology, and is currently pursuing her master's degree in marriage and family therapy. Kira is a certified holistic lifestyle coach through the C.H.E.K. Institute, and is committed to helping Castlewood change lives and provide hope for its clients.
Kira is eager to share the benefits of the Castlewood program with others. "Castlewood and Monarch Cove provide the highest level of care to those struggling with eating disorders. The treatment professionals at Castlewood are dedicated to using clinically proven techniques for recovery, and clients benefit from the individualized treatment plans that are created specifically for them. I am proud to be part of this team, and am looking forward to helping other individuals, families, and professionals learn more about Castlewood."
According to the Alliance for Eating Disorders, 4 out of every 10 Americans have either suffered or have known someone who has suffered from an eating disorder. Currently, 25 million Americans suffer from a clinically significant eating disorder, but less than one in ten will receive treatment. As someone who is in recovery herself from an eating disorder, Kira Olson understands the importance of the work that is being done at Castlewood and Monarch Cove. Her experience with an eating disorder has prepared her for the work ahead, and serves as motivation to share the message of Castlewood with others.
Nancy Albus, CEO of Castlewood Treatment Center, is happy to have Kira part of the team. "Kira brings experience and passion to the Castlewood team. Her dedication to helping others recover from eating disorders will prove to be a benefit to our organization and to those we serve. We are certain that her enthusiasm and vision will allow us to increase awareness about our programs throughout the country."
Castlewood Treatment Center is located in St. Louis, MO, and has affiliate centers in different regions of the United States. Monarch Cove, located in Monterey, CA, is the West Coast affiliate of Castlewood. Castlewood is accredited with the Joint Commission, and offers a continuum of care to all clients. For more information about Castlewood Treatment Center and its affiliates, visit http://www.castlewoodtc.com/.