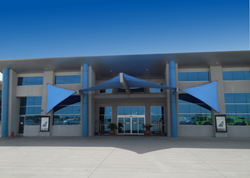 'Scottsdale AirCenter represents an important addition to our world-class FBO locations in our global network.'- Maria Sastre, President and COO for Signature Flight Support.
Orlando, FL (PRWEB) August 05, 2014
Signature Flight Support announced today that it has acquired the assets of Scottsdale AirCenter FBO at Scottsdale Airport (KSDL) in Arizona.
The modern facility includes a 12,000 sq. ft. terminal and 145,000 sq. ft. of hangar space capable of housing all state of the art large cabin business aircraft. Additional amenities include concierge services, gift shop, passenger and pilot lounge areas and 32,000 sq. ft. of shop and office space.
Maria Sastre, President and Chief Operating Officer for Signature Flight Support commented on the acquisition, "Scottsdale AirCenter represents an important addition to our world-class FBO locations in our global network. Their reputation for exceptional customer service was one of many attributes Signature considered in making this acquisition. Scottsdale AirCenter is a fantastic facility in a key market for Signature. We welcome the staff and customers of Scottsdale AirCenter to the Signature family."
Scottsdale Airport in Arizona serves the Greater Phoenix Metro Area and is the 16th largest business aviation airport in the US. It is a dedicated general aviation airport and the Scottsdale AirCenter is one of only two FBOs on the field. Scottsdale AirCenter is surrounded by Scottsdale Airpark's 2,600 acres and is in close proximity to the golf courses, resorts and exclusive communities that have made Scottsdale, Arizona famous.
Signature Flight Support, a BBA Aviation plc company, is the world's largest fixed-base operation (FBO) and distribution network for business aviation services. Signature services include fueling, hangar and office rentals, ground handling, maintenance and a wide range of crew and passenger amenities at strategic domestic and international locations. Headquartered in Orlando, Florida, Signature currently operates at more than 100 locations in the United States, Europe, South America, Africa and Asia. For more information, please visit: http://www.signatureflight.com or on Facebook at http://www.facebook.com/signatureflightsupport. Follow Signature Flight Support on Twitter: SignatureFBO
BBA Aviation plc is a leading global aviation support and aftermarket services provider. BBA Aviation's Flight Support businesses (Signature Flight Support and ASIG) provide specialist on-airport support services, including refuelling and ground handling, to the owners and operators of private, business, military and commercial aircraft. BBA Aviation's Aftermarket Services businesses (Dallas Airmotive, Premier Turbines, H+S Aviation, International Turbine Service, W. H. Barrett Turbine Engine Company, International Governor Services and Ontic) are focused on the repair and overhaul of gas turbine engines and the service of aerospace components, sub-systems and systems. BBA Aviation group companies operate from more than 220 individual locations on five continents. For more information, please visit http://www.bbaaviation.com.