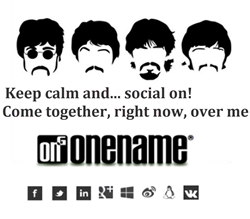 Groundbreaking Tech Turns Your Social Network Into Cash!
Kirkland, Washington (PRWEB) August 06, 2014
Most people have a ton of social media accounts ... Twitter, Facebook, LinkedIn the list goes on. At OneName Global (ON-G) we make it possible to connect and manage social media streams to a customizable, on-line dashboard. Now all posts and content can be distributed among the connected networks from one place. Best of all, ON-G gives you the power to make money with existing social activity. Set up content relevant ads from our Ad-Share Marketplace and go. It's easy and fun. Automate posts and ads, launch one or several dashboards and so much more.
See more now at: https://www.kickstarter.com/projects/1829592167/groundbreaking-tech-turns-your-social-network-into
If you have any questions, please feel free to contact Christopher Kramer, CEO of OneName Global, Inc. at info@onenameglobal.com or at 425-893-9698. More information is available at https://www.onenameglobal.com.