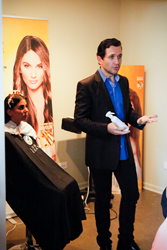 After 5 years of working with FineLine and the salons in Chicago I was truly honored to meet so many long term clients dedicated to GKhair. Many expressed to me their satisfaction with the quality of the formulas.
Chicago, Illinois (PRWEB) August 05, 2014
More than 60 guests from Chicago met to mingle and enjoy savory refreshments, sharing their views and experiences in the professional hair care industry. GKhair and FineLine Distributors stand behind customer service and continuous professional education supporting client retention in the salon. GKhair's new Fast Blow Dry fully supports client loyalty with a breakthrough in taming solutions allowing for beautiful, manageable, frizz-free hair! "Our event with GKhair CEO, Van Tibolli, was a great success bringing all channels of the industry together to mix and mingle in a fun, exciting atmosphere hitting home here in Chicago," says Christine Pantle, FineLine Distributors Marketing & Education Director.
GKhair began with the vision and values of the CEO and founder Van Tibolli. From the start Van has been an innovator in "the science of hair." His concept is very simple; develop and create the best products by using the highest quality ingredients available in the hair care industry. GKhair's superior hair care products are produced by extensive research and development to deliver beautiful, healthy and tamed hair. GKhair continuously invests in GKhair's signature Hair Taming System with Juvexin, and the full line of aftercare products and styling accessories, which work hand in hand to provide the necessary tools for the salon professional and consumer to achieve ultimate satisfaction.