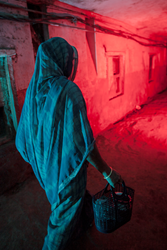 The worldwide press has largely focused on the pain and suffering associated with this issue" states Michael Matlach. "My focus will be to tell the stories about the good work being done to help the survivors of sexual violence.
Scottsdale, Arizona (PRWEB) August 11, 2014
Child sexual abuse is a serious problem in India. According to Counsel to Secure Justice, a New Delhi based NGO, 53.2% of children have experienced sexual abuse; 20.9% of children have suffered severe forms of sexual abuse, including rape. These percentages are staggering when you consider India has 1.2 billion people. As a frequent traveler to India, photographer Michael Matlach was looking for a way to make a difference when he was introduced to CSJ Consultant, Jonathan Derby.
Michael's collaboration with CSJ will involve spending a month in India to begin creating a photo, video and audio archive to be used to tell the stories of the survivors of sexual violence and how CSJ's advocacy is essential to seeking justice.
CSJ is a young organization that provides survivors of sexual violence free legal and psychosocial support throughout criminal proceedings, from when they report the abuse to police until judgment is rendered. CSJ's current project focuses on survivors of child sexual abuse in Delhi. CSJ advocates work on the ground—at the police station, hospitals and courts—advising government authorities on the law, supporting clients and monitoring the progress of cases. They work with trustworthy partners to ensure clients and their families receive the care and support they need to begin healing from the trauma they have suffered.
"The worldwide press has largely focused on the pain and suffering associated with this issue" states Michael Matlach. "What my focus will be is to tell the story about the good work being done everyday by groups like CSJ as they bring the perpetrators to justice and help the survivors move ahead with their lives. The stories of survival and success need to be heard as well. I'm happy to be part of the effort that is already underway in India from the government down to the grassroots level to address the issue of sexual violence."
Michael is crowd funding this volunteer project through IndieGogo. More information on the From Silence to Justice campaign, photos and videos can be found at http://igg.me/at/michaelmatlach
About Michael Matlach
Michael Matlach is a humanitarian photographer who has worked throughout Asia, Europe and Latin America. A sampling of his work can be found at http://www.michaelmatlach.com He is currently Art Director for HarmonyWishes,inc.
About HarmonyWishes,inc
Founded in 2007, HarmonyWishes Art E-Cards mission is to provide an alternative way of communicating through a visually and intellectually stimulating choice of unique images that have a global perspective and foster spiritual diversity.
HarmonyWishes' blog focuses on global organizations, art, music, sustainability and a variety of cultural topics.