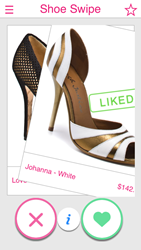 Somehow, a pair of Louboutin's or Jimmy Choo's helps project an air of confidence and a little height. It does wonders for you ladies. Don't skimp on your footwear. I've witnessed a good pairs power to self-assure. It's a sight to see.
San Francisco, California (PRWEB) August 05, 2014
Shoe Swipe is cross-platform and available for free in the Apple App Store and Google Play (Android).
Using a Tinder-like interface, users swipe right to like or left to dislike. Shoes you have liked are added to your favorites and can be purchased. Users can tap the shoe to view more images, a description, and purchase the shoes.
Shoe Swipe is optimized to make shopping easier by having a quick view interface versus listing small images that are difficult to see and require clicking back and forth to view items.
Discover over 40,000 men's and women's pairs of shoes from your favorite brands such as Steve by Steve Madden, Sam Edelman, Marc by Marc Jacobs, Dolce Vita, Nike, Adidas and many more.
Shoe Swipe is developed and owned by Callahan & Associates, Inc. a mobile applications development firm founded in 2014. Headquartered in San Francisco, the company specializes in developing software solutions that meet business and consumer needs on phones, tablets and desktops computers.