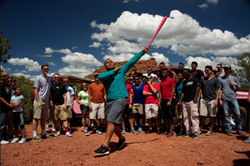 We're very excited to provide such a fun and memorable group tour for the Cleveland Indians.
Sedona, AZ (PRWEB) August 06, 2014
Yesterday, Pink Jeep Tours, the world-famous off-road adventure company of the Southwestern United States, led the Cleveland Indians on an excursion through Sedona's Diamondback Gulch.
The Cleveland Indians selected Pink Jeep Tours' Diamondback Gulch tour for their custom group experience. After boarding the iconic pink open-air Jeep® Wranglers driven by highly-trained Pink Jeep Tours guides, the baseball team traveled across Boynton Pass and down the rugged Sidewinder Trail. The group experienced stunning views of Sedona landmarks including Capitol Butte, Lizard Head Rock, Chimney Rock and Doe Mesa.
The Pink Jeep Tours Group Sales team organized the custom Cleveland Indians' group tour of Diamondback Gulch located in Sedona, Arizona. Pink Jeep Tours offers group tour packages that complement any of their Southwestern tour locations which include Sedona, Phoenix, Grand Canyon, and Las Vegas. Small and large groups can customize their experience with tour offerings ranging from wedding packages and catered events to picnic lunches and corporate team building activities.
"We're very excited to provide such a fun and memorable group tour for the Cleveland Indians," says Leslie McLean, Manager of Group Sales for Pink Jeep Tours. "Our Sales team created a customized large group tour package that matched the Cleveland Indians needs and enhanced their Sedona team tour experience."
Pink Jeep Tours Group tour packages are a popular tour option for companies and organizations as well as family reunions and out-of-town guests. Group sales representatives provide the best tour packages customized to accommodate every group's requests and budget.
At the end of the tour, the Cleveland Indians honored Pink Jeep Tours by signing a pink baseball bat autographed by all of the baseball players. Pink Jeep Tours plans to showcase the autographed baseball bat at their Sedona store location in uptown Sedona.