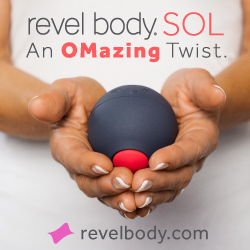 SOL vibration deepens intimacy, reduces stress and tension, and renews mind, body, and spirit.
SEATTLE, WA (PRWEB) August 05, 2014
SEATTLE, WA – August 4, 2014 – Revel Body, the innovator of TrueSonic® technology and maker of the Revel Body® Sonic Vibrator, introduces the Revel Body SOL™ Sonic Vibrator, designed to deliver a more relaxing and rejuvenating experience by operating at the frequency of Om (136.1Hz).
Om is a sacred frequency that is recognized by many ancient cultures and considered to be the energy that connects and joins all things together.
"Ancient yogis and people of many other cultures have used the power of Om to harness positive energy and radiant health, and the new SOL vibrator brings this technology to the masses," says Robin Elenga, founder and CEO of Revel Body. "SOL vibration deepens intimacy, reduces stress and tension, and renews mind, body, and spirit."
Part of the award-winning family of Revel Body products, SOL uses TrueSonic Technology that offers more power and sensation than any other vibrator on the market.
Unlike battery-powered devices, which use rotary vibration motors, SOL uses a linear motor that provides pulsation along the length of the product, and can be used to create a broad range of vibration. Linear motors deliver software-controlled magnetic pulses to conserve energy, making them more reliable and efficient.
Retailing for $139 per unit, the Revel Body SOL features:

Om setting to promote rejuvenation and relaxation
Increased sensation and adjustable settings
Removable QuietCore™ attachments to customize your experience
Body-safe materials—no phthalates, nickel, or lead
Discreet ergonomic shape for comfort and ease of use
Enhanced underwater action for the best bath ever
Waterproof
Travel-friendly with a USB rechargeable LiPo battery
Two-year warranty
The SOL vibrator comes with three of Revel Body's new QuietCore attachments: Rose, Fawn, and Ever. Other attachments are available for purchase. Revel Body plans to launch four more attachments this summer.
Rose: Attachment is smooth with a round surface that helps to loosen sore muscles
Fawn: Attachment tickles sensitive areas and is great for sensation play
Ever: Attachment provides broader surface coverage with interesting texture for full body massage
Beginning today, the Revel Body SOL Sonic Vibrator, attachments, and accessories can be purchased at a variety of sex positive retailers worldwide and online including Amazon.com, Brookstone, and drugstore.com, as well as at http://www.revelbody.com.
About Revel Body
Revel Body is a Seattle-based technology company focused on product innovation in the sexual health and wellness space, and is the creator of the revolutionary Revel Body® Sonic Vibrator. Founded in 2010, Revel Body is known for its patented TrueSonic® motor technology. As the industry's leading innovator, Revel Body is committed to revolutionizing technologies that improve sexual experiences and promote positive thinking about sexuality. For more information on Revel Body, visit http://www.revelbody.com.
###