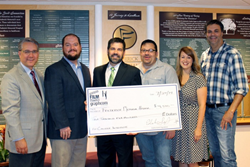 "We were proud to share the film with the Frederick community and support the mission of FMH's Cancer Therapy Center," says Sanchez. "We had a great turnout. Everyone there contributed to cancer care right here at home."
(PRWEB) August 06, 2014
Graphcom, Inc., a full-service communications and marketing agency in Gettysburg, Pa., the Frederick Film Office and award-winning film company Haxan Films presented a check for $4,500 to Frederick Memorial Hospital (FMH)'s Cancer Therapy Center. The proceeds were raised during an exclusive, VIP reception party and pre-screening of Haxan's major motion picture "Exists."
The reception, held at the Maryland Ensemble Theatre, was followed immediately by the pre-screening of "Exists" at the Weinberg Center as part of the Frederick Film Festival. The event included food and drinks, a meet and greet with the filmmakers, and exclusive giveaways. All proceeds were donated to the Cancer Therapy Center.
"We were very excited to raise funds for the Cancer Therapy Center at FMH," says Matt Livelsberger, Graphcom president. "Graphcom has always been committed to helping the communities we live and work in. Thanks to our creative team, our event planning and marketing services, and fantastic clients like Haxan Films and the Frederick Film Office, we were able to give back to an organization that does so much for the Frederick community."
"Exists" is a found footage horror film directed by "The Blair Witch Project" director and Frederick County resident Eduardo Sanchez. After premiering at SXSW, the film was picked up by Lionsgate Entertainment with a fall 2014 release date. The film was screened for the second time during the Frederick festival.
"We were proud to share the film with the Frederick community and support the mission of FMH's Cancer Therapy Center," says Sanchez. "We had a great turnout. Everyone there contributed to cancer care right here at home."
"It's always a great thing when we can promote local filmmakers and support a local charity in the process," adds Carl Glorioso, director of the Frederick Film Office.
About Haxan Films
Haxan Films is an award-winning entertainment production company responsible for feature films such as "The Blair Witch Project" and "Lovely Molly," as well as television series "FreakyLinks." The company is made up of Eduardo Sanchez and his partner Gregg Hale. To learn more, visit Haxan Films' website at http://www.facebook.com/groups/Haxanfilms/.
About Graphcom, Inc.
Founded in 1982, Graphcom is an award-winning, full-service communications and marketing firm located in Gettysburg, Pa. The organization includes a creative agency (Graphcom Creative), a signage division (Signs by Graphcom), a publishing division (Graphcom Publishing), a digital flags and scenic effects division (Field and Floor FX), as well as a full-service commercial printing division with G7 Master Printer certification. For more information about Graphcom's services, visit http://www.graphcom.com.
About Frederick Film Office
The mission of the Frederick Film Office is to support, attract, and promote film, television, and multimedia projects for the benefit of Frederick County, Maryland. The Frederick Film Office is a sponsored project of Fractured Atlas, a non-profit arts service organization.
About Frederick Memorial Hospital
Since opening in 1902, Frederick Memorial Hospital (FMH) has grown from a 2-ward hospital to a state-of-the-art healthcare facility with one of the busiest emergency departments in the state of Maryland. FMH offers a number of advanced surgical services, comprehensive outpatient care, and immediate care for non-life threatening illnesses and injuries in convenient locations throughout Frederick. To learn more, visit http://www.fmh.org.