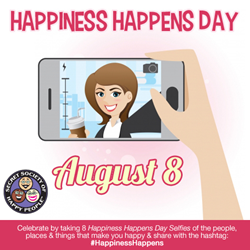 Happiness Happens Day let's us focus on all the things that are right.
Dallas, TX (PRWEB) August 05, 2014
The Secret Society of Happy People will celebrate the 16th Happiness Happens Day with a selfie challenge.
The challenge is to take 8 selfies of the people, places and things that make you happy and post them on your favorite social media sites using the #HappinessHappens hashtag.
"We want people to pay attention to everything, big and small, that makes them happy during the normal course of the day and share it," says Pamela Gail Johnson, Founder of the Secret Society of Happy People. "Sometimes we're so much more comfortable chasing happiness that we really forget to appreciate it when it happens."
Since its Happiness Happens Month the Society provides lots of celebration options at the Society website (http://sohp.com) including:

Participate in the Happiness Happen Month 31 Day Challenge
Become a Happiness Happens Month Ambassador ~ Get Access to Secret Happy Stuff & Activities
Pass out Silver Kisses ~ Because Happy People Naturally See Silver Linings
"This year more than 2200 people are participating in the Happiness Happens Month 31 Day Challenge on Facebook. You can join at any time and finish it in September," says Johnson. "The selfie is one of the challenges and a great way to remind ourselves of what makes us happy and hope others will participate too."
August was originally declared Happiness Happens Month in 2000 and is an annual tradition for the Secret Society of Happy People. August 8th will be the 16th Happiness Happens Day.
To sign up for the Happiness Happens Month activities, go to http://sohp.com/society-celebrations/happiness-happens-month/. Another option for people to share a token of happiness with family and friends is to share "happicons" via email, Facebook, Twitter, Google+ and Pinterest. The 31 "happicons" can be shared via http://sohp.com/what-is-happiness/happicons/.
About The Secret Society of Happy People:
Pamela Gail Johnson founded the Secret Society of Happy People in 1998 to encourage the expression of happiness and discourage parade-raining. The Society has thousands of members from more than 34 countries. Ms. Johnson is a public speaker for organizations and companies around the country who want to promote happiness among their members or employees. The Secret Society of Happy People offers free membership to anyone interested in learning how to improve their happiness quotient. The free membership includes a downloadable Happiness Word Poster, a monthly Happiness Happens newsletter and an optional Daily Happiness Inspiration email. The society also offers videos, books and daily inspirations to promote happiness.
Media Contact:
Pamela Gail Johnson
(972) 459-7031
(469) 358-3914
pamelagail(at)sohp(dot)com