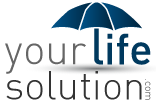 (PRWEB) August 05, 2014
YourLifeSolution.com, a service which allows consumers to instantly view their own life insurance rates entirely online, is today publishing a method which allows life insurance policyholders to increase their death benefit at will. This method has nearly zero limits on how much the insured can increase their death benefit by over-paying the life insurance premium.
"A flexible life insurance policy, not to be confused with a variable life insurance policy, allows an insured to overpay their premium, and the death benefit increases over the following years. This is incredibly useful for a young person who merely needs $250,000 or-so in coverage, but may later need $2,000,000 when they are middle-aged and have far greater liabilities to answer for. The policyholder could actually systemically overpay their premium after being diagnosed with a serious health condition, and the death benefit would rise like clockwork in following years commensurate with the increased contributions. There are no underwriting guidelines that must be met to increase the death benefit by overpaying the premium in the future," said Eric Smith, the founder and independent life insurance agent of YourLifeSolution.com.
YourLifeSolution.com has published an illustration showing how this method could be utilized by a healthy 30-year-old to increase their death benefit at will throughout life.
The PDF can viewed here: http://yourlifesolution.com/lifeinsurancequotes/Example%20For%20Press%20Release.pdf
Consumers interested in learning more about utilizing a flexible life insurance policy are encouraged to contact Eric Smith via the contact form on YourLifeSolution.com. Those interested in viewing instant online life insurance quotes can do so at YourLifeSolution.com. Information can also be obtained by phone at 888.374.2764.