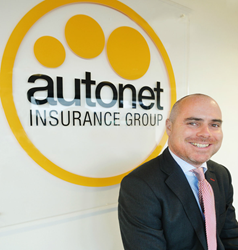 (PRWEB UK) 6 August 2014
Insurance Broker Autonet Insurance announces today the appointment of their new Head of Trading, Tom Doyle.
Tom arrives at the company as their SME presence, affiliate programme and motor insurance share is set for substantial growth. As a result, Tom has been appointed to the role as part of an internal restructure within Autonet to target different revenues bringing an abundance of experience with him.
Tom began his career working within the broking community firstly at Cofield Insurance later known as Express Insurance Services and now owned by Ageas. Working his way up from floor salesman, Tom secured the role of managing the whole Insurer Development panel for Motor and selected GCV Insurers, successfully growing mutually profitable accounts to fulfil both the parent company and insurer needs. Most recently Tom held a position at AXA Commercial Insurance managing the largest commercial GCV brokers within the UK market as well as strategic non-motor SME package providers.
Tom Doyle Head of Trading at Autonet Insurance said: "Autonet truly embraces the core principles of running a successful broker, regardless of its impressive growth and continued successes the focus is, and has always been around creating true partnerships with our Insurance Partners and putting the customer needs first.
"I am very much looking forward to a new chapter, establishing Autonet as the number one broker, offering the very best tailored products to match individual business needs."
Tom will be working closely with Directors and Senior Management focusing on Insurer Development and operational considerations as well as leading Autonet's differing streams of revenue outside of standard Commercial Vehicle and Motor. From Affiliates, SME, Motor Trade, Fleet, Household, Motorbike and Additional Products as well as niche Motor and GCV Insurer schemes.
Ian Donaldson Managing Director of Autonet Insurance said: "I am delighted to welcome Tom as Autonet's Head of Trading, bringing with him his experience and knowledge within the insurance industry.
"On behalf of everyone at Autonet I would like to welcome Tom and wish him the best of luck."