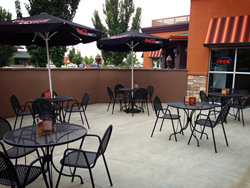 Meridian, ID (PRWEB) August 05, 2014
Leading commercial furniture distributor, Restaurant Furniture.net recently teamed up with Mongo's Grill in Meridian, Idaho to provide them with new outdoor furniture.
Mongo's Grill is a new concept that fuses Mongolian-style dining with a plethora of other food types. The interesting thing about this concept is that it can be anything. Pizza wraps, sun-dried tomato basil pasta, Mongolian tacos, shrimp alfredo primavera, macaroni and cheese and fajitas are a few different things that can be made. Wine and bottled or tap beer is served. They also offer a full range of smoothies, espresso and desserts.
There are seven Mongo's Grill locations. In addition to the one in Meridian, ID, there are also locations in Maple Grove and St. Cloud Minnesota. There are two locations in Ontario and Manitoba each.
The owner contacted Restaurant Furniture.net to buy new patio furniture. He chose Restaurant Furniture.net because of their reputation as a valued manufacturer of high quality commercial furniture and competitive prices.
For new seating the owner decided to go with Restaurant Furniture.net's Beach House Outdoor Chair in black finish. The patio chairs come with a netted back and seat. The finish is zinc plated with a powder coat finish. Anchors are weighed to the tube of the legs to reinforce stability. The Beach House Outdoor Chair sells for $45 on Restaurant Furniture.net.
He also bought Round Outdoor Patio Tables. The table sets are also netted and include a hole in the center to accommodate patio umbrella poles. Like the Beach House Outdoor chairs, the table's finish is zinc plated with a powder coat finish. The square shaped table which includes legs has rolled pipe edges. The outdoor patio tables come in square and round shapes in various sizes. Prices for the Outdoor Patio Tables start at $80.
"The Beach House Outdoor Chair & Outdoor Patio Table were just what the owner wanted to complete the elegant look he wanted for his patio seating," said David M., salesperson for Restaurant Furniture.net. "It was also important for him to have a matching set to give him that cohesive look."
Browse Restaurant Furniture.net's full selection of commercial grade chairs, bar stools, table tops, table bases, booths and patio furniture at http://www.restaurantfurniture.net or talk to a customer service representative at (888) 409-1115.
Mongo's Grill is located at 3560 N. Eagle Rd. in Meridian, ID. They can be contacted at: (208) 475-2211.