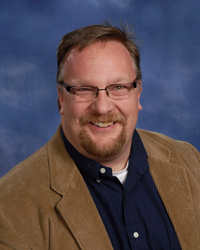 Mahtomedi, MN (PRWEB) August 05, 2014
At a congregational meeting on July 27, members of St. Andrew's Lutheran Church in Mahtomedi, Minnesota, voted to call the Reverend Michael Carlson to be their lead pastor. Pastor Carlson will begin his work at St. Andrew's in mid-August and will be installed in a celebration service on Sunday, Sept. 21.
Pastor Carlson served St. Andrew's as executive pastor for more than six years before accepting a brief call as senior pastor of Shepherd of the Lake Lutheran Church in Prior Lake. Among his many accomplishments during his time at St. Andrew's, Pastor Carlson was instrumental in launching the Community Resource Center, which provides assistance such as emergency shelter, job search, counseling and more. He is originally from northeastern Minnesota, where he began his ministry as a youth leader. After earning a Master of Divinity degree at Wartburg Theological Seminary in Dubuque, Iowa, he was called to Zion Lutheran Church in Grand Rapids, Minnesota, before joining the pastoral staff at St. Andrew's. He is looking forward to returning to St. Andrew's as lead pastor.
After learning of the vote, Pastor Carlson stated, "Today I was overjoyed with a sense of gratitude and humility as the congregation of St. Andrew's Lutheran Church voted to call me as lead pastor. It is truly an honor to serve a place that understands the importance of celebrating the power and promise of Jesus Christ in the world. I am looking forward to serving with our talented staff and a congregation of over 8,000 committed servants of Christ."
"Pastor Mike is one of the most gifted pastors in the ELCA," said Carol Bufton, president of the St. Andrew's congregation. "He is an amazing preacher, a visionary leader and a caring pastor. His deep love of God and his creative, energetic leadership will take St. Andrew's to a new level of service. We are so pleased to welcome him and his family home."
Pastor Carlson and his wife Tammy live in Birchwood. They have three sons: Casey, Josh and Kristian.
<br>About St. Andrew's Lutheran Church:<br> St. Andrew's Lutheran Church is located at 900 Stillwater Road, Mahtomedi, Minnesota. The church was established in 1922. This 8,000-member congregation exists to give itself away in love so that the world may be more like the world Christ envisioned. In addition to vibrant traditional and contemporary worship, St. Andrew's is known for a strong youth program including special services for troubled youth. Its community resource center provides emergency and long-term services such as counseling, emergency shelter for homeless families, assistance with job searches, a free weekly community meal and more. Mission teams work in Slovakia and Jamaica. Through a partnership with Presbyterian Homes, St. Andrew's Village offers independent, assisted living and memory care facilities. For further information, visit saintandrews.org or call 651-426-3261.