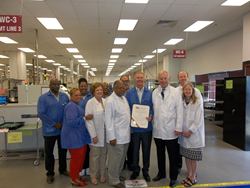 our employees have succeeded by turning our customers into raving fans - Matt Turpin, CEO and President of Zentech Manufacturing
Baltimore, Md. (PRWEB) August 07, 2014
Zentech Manufacturing, Inc. is pleased to announce that they have been honored by the State of Maryland as a premier electronics contract manufacturer and production facility in the State of Maryland.
The largest electronics contract manufacturing organization in Maryland, Zentech manufactures sophisticated electronic assemblies for Maryland companies and beyond in many diverse end markets. This includes supporting Department of Defense prime contractors such as Northrop Grumman, L3 Chesapeake Sciences and Lockheed Martin, in the medical device arena to include Becton Dickinson and Novasom, and direct to the U.S. Army at Aberdeen Proving Grounds, the U.S. Navy and the Department of Justice.
In accepting the honor from Mr. Peter Franchot, Comptroller, State of Maryland, Zentech's CEO and President Matt Turpin remarked, "We are extremely proud of this recognition and it is indicative of both our commitment to our customer's success and the commitment of our employees to manufacturing superior products. Zentech has capitalized an advanced technology equipment set that provides our very talented employees the opportunity to produce quality products and they have succeeded by turning our customers into raving fans."
In June of this year, Zentech became the second electronics contract manufacturer in the U.S., and only the third worldwide, to become certified as an IPC Trusted Source Qualified Manufacturer Listed (QML) organization for the manufacture of Class 3 mission-critical, high-performance electronic assemblies.
Mr. Turpin is a strong advocate for Maryland businesses and in late 2013 was appointed to the Governors Workforce Investment Board (GWIB) for a four year term. The GWIB sets workforce policy for the State with the goal of having a properly prepared workforce to meet the current and future demands of Maryland businesses. He is also a member of the Regional Manufacturing Institute (RMI), a statewide advocacy group representing the interests of Maryland manufacturers. Matt is particularly active in the Energy Forum of the RMI and is a featured speaker and will discuss Zentech's LED Lighting Technologies on August 19th at the Baltimore Museum of Industry (RSVP here). He is also a Board Member of the Junior Achievement (JA) of Central Maryland organization. The JA's mission is to promote financial and economic literacy in elementary, middle and high school students.
Zentech Manufacturing is also very active in the Reshoring Initiative. This effort is focused on returning commercial electronics manufacturing opportunities from other countries, primarily Asia, to the United States. Zentech was recently featured in Inc. magazine for their success in reshoring several electronics manufacturing from Asia to Maryland. In Zentech's model, the focus is not only on the success of their company, but there is also a concerted effort to utilize Maryland-based businesses in Zentech's supply chain. This includes tool and die makers, machining, sheet metal fabrication, injection molded products, equipment and services providers, electronic components distributors and Zentech's in-house cable assembly capabilities. In the aggregate, reshoring electronics manufacturing to Maryland, hiring additional employees to support the increased manufacturing requirements, and utilizing Maryland-based businesses for Zentech's supply chain has an exponentially positive impact on the State of Maryland's economy, as recognized by the State of Maryland's Comptroller in presenting the award to Zentech.
If you are considering an electronics contract manufacturer (CM) for your product, be sure to download the white paper, "The Top 10 Questions You Should Be Asking Your Electronics Contract Manufacturer."
Zentech Manufacturing, Inc. (Baltimore, Md.) is an engineering driven small business, privately held and profitable, operating from a 42,000 sq. ft. facility specifically constructed for electronics contract manufacturing and employs approximately 120 highly skilled personnel. Zentech is U.S. State Department certified as an ITAR (International Trafficking in Arms) supplier, is AS9100 certified for the aerospace sector, ISO 13485 certified for the medical electronics arena, ISO 9001:2008 certified and manufactures up to and including IPC Class 3 for mission-critical electronics as an IPC Trusted Source.