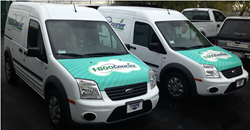 Atlanta, GA (PRWEB) August 06, 2014
1-800 Courier, a leader in same-day delivery, messenger and transportation services, announces multi-stop courier route solutions for nationwide corporations and businesses. The announcement comes in an effort to expand its current client base and create an increase in courier usage by businesses with multiple office locations throughout the US. 1-800 Courier strives to be the premier choice for same-day small package delivery, on-demand transportation, and scheduled delivery services.
Corporations which are nationwide have daily internal and external service functions needed between offices within metro-area cities. A multi-stop courier route solution offers the most cost-effective method for office-to-office deliveries, including payroll, deposits, packages, and mail same-day deliveries. 1-800 Courier can pick up and deliver within a specified mileage radius to service all of its' client locations. From picking up customer payroll and delivering to several office locations, to performing a courier route to pick up mail and deliver it to a single post office location, 1-800 Courier can provide the requested service.
The multi-stop route solution is developed by utilizing route optimization systems to map out all locations and delivery efficiency. The Boston courier performs the location route analysis, as well as the time perimeters required by the client. For companies with multiple city locations, the courier is a viable option for multi-stop services, especially for corporations establishing themselves in new markets. Companies will experience an increase in quality and productivity within their offices, as a result of partnering with a courier to handle these daily, repetitive functions.
1-800 Courier is a premier same-day courier offering transportation and distribution services. From small packages to palletized freight, 1-800 Courier delivers fast. As a leader in the courier industry, their goal is to perform optimal courier logistic solutions and superior customer service every time. The courier service provides same-day delivery successfully for over 1,500 clients, including a number of Fortune 500 companies nationwide.