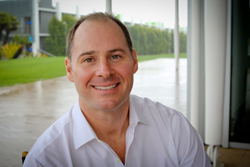 Newport Beach, CA (PRWEB) August 06, 2014
Patients with receding gums who are looking for a minimally invasive receding gum treatment are now invited to schedule an appointment with Dr. Coury Staadecker and learn more about the Pinhole Surgical Technique (PST™). Dr. Staadecker is a periodontist in Newport Beach, CA who is one of a select few worldwide qualified to perform this highly innovative and effective treatment.
Patients can develop receding gums for many different reasons, including untreated gum disease, genetic predispositions to gum recession, and brushing too aggressively, among others. If left untreated by a periodontist, Newport Beach, CA patients with gum recession can experience discomfort and tooth sensitivity that can make it difficult to eat and drink, an increased risk of root decay and damage, and issues with self-esteem. Traditional receding gum treatment includes taking a sample of tissue from the roof of the mouth and then attaching it via a grafting procedure to the receded gums with the help of stitches. If the gum recession is located in the front of the mouth, stitches can be very unattractive and uncomfortable and can take weeks to heal. PST™ is a minimally invasive alternative to gum grafting treatments and does not require any cutting or stitches. Due to the simple nature of the procedure, patients experience very little bleeding and recover quickly.
When performing PST™, Dr. Staadecker uses a very small, specialized tool to create a pinhole-sized opening in the gums through which he inserts a tiny tool that is designed to push the gums gently away from the teeth. Once the gums are pushed away from the teeth, Dr. Staadecker then repositions them so that they cover up the exposed root surfaces and the area no longer shows signs of recession. To promote healing, small strips of collagen are applied to hold the repositioned tissues into place during this period. Patients who receive PST™ have a low risk of experiencing complications due to the minimally invasive nature of the procedure.
Patients who are looking for a periodontist in Newport Beach, CA who is qualified to perform the Pinhole Surgical Technique™ as a receding gum treatment are invited to call Dr. Staadecker's office and schedule an appointment today.
About The Doctor
Newport Beach Periodontics & Dental Implants is a periodontal practice offering personalized dental care for patients in Newport Beach, CA. Dr. Coury Staadecker received his dental degree from The Ohio State University and his Periodontics Certificate from the Naval Postgraduate Dental School in Bethesda, MD. He also earned a Masters of Science degree from George Washington University. In addition, Dr. Staadecker is a Diplomate of the American Board of Periodontology and an Accredited Fellow of the American Society of Dental Anesthesiology. Dr. Staadecker has a passion for clinical excellence and is committed to help patients achieve and maintain optimum oral health. To learn more about Newport Beach Periodontics & Dental Implants and their dental services visit their website at http://newportbeachperiodontics.com/ or call (949) 640-9475.