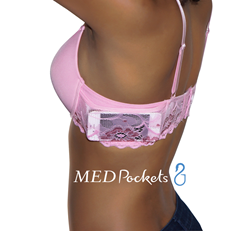 Wearable Technology Storage: Some wireless insulin pumps for women who have diabetes can fit in a MedPockets Bra.
Marblehead, MA (PRWEB) August 06, 2014
MedPockets, a bra company based in Marblehead, MA, provides a bra with pockets for women with diabetes to store their insulin pumps and other diabetic equipment. The bra comes with 4 pockets, one in each side panel and one in each cup.
MedPockets was created almost accidentally when Sherry Goff owner of PocketBra, was approached by a few people in the diabetic community. Women with diabetes started purchasing PocketBras and discovered that it was a perfect fit for most of their insulin pumps. "MedPockets is fashionable AND functional. We wanted to give diabetic women greater peace of mind and something pretty," said Sherry Goff.
"I need four more of these PocketBras in different colors including leopard print," said a client to her husband. A comment from a user on Facebook said 'this bra with pockets is insanely useful.' "Some insulin pumps today are about the size of a smart phone and can easily fit into the side panel pockets of the MedPockets Bras," claims Sherry Goff, CEO of SherryWinks, LLC.
"As wearable technology improves and gets smaller and smaller it becomes easier to store medical technology, exercise and sleeping devices in clothing and MedPockets offers an elegant solution for women," said Jim Peake, Chief Marketing Officer of SherryWinks,LLC.
Currently, MedPockets comes in 10 sizes and 2 colors, black and cherry blossom pink. SherryWinks owns the patent on PocketBra and is well positioned to license to manufacturing device companies or apparel manufacturers so they can deliver an affordable and branded solution to their clients.
MedPockets has licensed the patented bra with pockets from SherryWinks, LLC a pocket company who manufacturers bras with pockets in Marblehead, MA. According to the NIH there are 12.6 million, or 10.8 percent, of all women ages 20 years or older with diabetes in the USA.