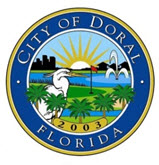 Doral, FL (PRWEB) August 18, 2014
The City Manager of Doral named Donald W. DeLucca as the new Chief of the Doral Police Department. Chief DeLucca will join the Doral Team on August 11, 2014.
Chief DeLucca began his career in law enforcement by graduating from the Miami Dade Police Academy at Miami Dade College in 1981. He began his law enforcement career with the City of Miami Beach where he rose through the ranks until 2001, when then Mayor Kasdin named him Chief of Police. Chief DeLucca's wide depth of experience within Miami Beach Police Department includes roles in both the operations and administrative divisions. He was also able to build a record of distinguished service with an agency of 402 sworn and 164 civilian employees with an annual budget of over $70 million. Not only was DeLucca successful in delivering a top notch police service to a diverse community of 95,000 residents but his agency also delivered superior police service to over 10 million Miami Beach visitors that arrived annually. Chief DeLucca comes to Doral after serving as Chief for the Town of Golden Beach. The Town of Golden Beach is considered one of the safest communities in Florida.
The City of Doral Police Department includes a great group of professionals and Chief DeLucca's work contributions and experience will add to the success of the department's future. In his new position, the Chief will oversee 105 sworn, 40 civilians and 8 reserve officers, with an annual budget of 16 million.
For more information on Chief DeLucca please contact Christina Baguer at Christina.Baguer(at)cityofdoral(dot)com or 786-385-3410.